The Sting of Climate Change: Jellyfish Invade FL Beaches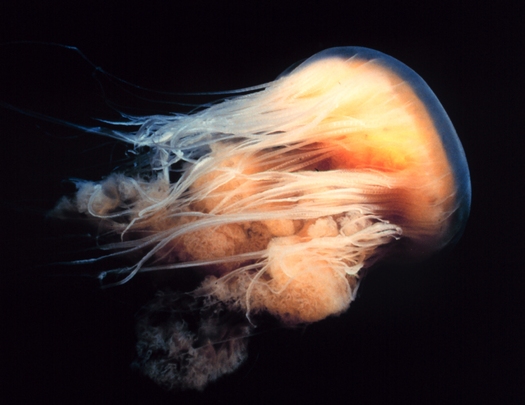 PHOTO: Warming surface temperatures associated with climate change are one factor in the rising population of jellyfish at Florida beaches, according to a National Wildlife Federation report. Photo courtesy: NOAA
August 28, 2014
NEW SMYRNA BEACH, Fla. - This Labor Day weekend, thousands of Floridians and visitors may feel more than just the sting of a sunburn. Jellyfish are hanging around beaches, with at least 400 people stung last weekend alone. While the toxin-tentacled animal has long been a part of beach-life, "jellyfish blooms" are becoming more common due to warming temperatures at the water surface and other factors related to climate change.

Billy Causey is regional director of NOAA's Office of National Marine Sanctuaries.

"What this is telling us is that something is not right in our ocean," Causey says. "It's a symptom of a sick ocean. It's a symptom of pollution. It's a symptom of elevated sea-surface temperatures."

Jellyfish are just one of the "pests" listed in a new report released by the National Wildlife Federation (NWF). Ticked Off: America's Outdoor Experience and Climate Change found that a variety of pests – including fire ants, stink bugs, ticks and mosquitoes – are proliferating as the climate changes.

Dr. Doug Inkley authored the NWF report and says there is mounting evidence of a warming climate and the negative impacts associated with it.

"It's not our imagination, this is already happening," Inkley says. "We must take action now, for our children's future and for our outdoor experience future."

Algal blooms, according to the report, are another consequence of warming waters. Earlier this month, a "red tide" impacted parts of the Florida coast. Causey says reports like this one from the NWF serve to "connect the dots" of climate change and human behavior, something he says has not been done up until this point.

"We've seen declines in fisheries. We've seen declines in various areas, but what we haven't done is really link human pollution to the health of the ocean," says Causey.

The NWF report recommends carbon-emission limits for existing power plants, which the Environmental Protection Agency plans to implement by June of next year. Increasing energy efficiency and investing in clean-energy sources are two other recommendations in the report.
Stephanie Carson, Public News Service - FL