PDX Workers Ask: "America's Best Airport ... for Whom?"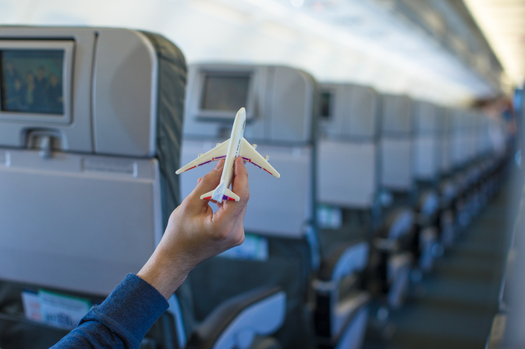 PHOTO: A new survey of workers who keep airplanes clean and fueled, load baggage and assist passengers at Portland International Airport outlines their concerns about working conditions, hourly wages, and overall lack of benefits. Photo credit: TravinkovStudio/iStockphoto.com.
September 4, 2014
PORTLAND, Ore. - Workers at Portland International Airport are urging airline passengers to look beyond its recent designation as "America's Best Airport" to the working conditions behind the scenes. People who clean the planes, assist passengers, and handle baggage say that, like other major air terminals, the Port of Portland relies heavily on subcontractors that continue to trim workers' pay and benefits.

Gladys Hernandez is a passenger assistant for Huntleigh, a major airport subcontractor. She says people often are surprised to learn she makes minimum wage after seven years on the job.

"When we talk to the passengers, some of them say, 'Oh, you have a good job, eh?' I don't know if for you, it's a good job if good pay is minimum wage," explains Hernandez. "And then, they are surprised - 'Really? I don't believe that.'"

A survey of almost 150 subcontracted airport service workers found that, while they say they're proud of the airport and their work, a little more than one-third (36.8 percent) make minimum wage and two-thirds (67.4 percent) have employers that don't offer health insurance. Only one in four (27 percent) has paid sick leave.

Survey questions about workplace safety issues revealed high percentages of workers who cited equipment problems (66.7 percent), lack of supplies (47.9 percent), feeling short-handed for the amount of work to be done (64.6 percent), or who feel unprepared to respond in the event of an airport emergency (54.7 percent).

Tina Cummins, who cleans airplanes for Alaska Airlines subcontractor Menzies Aviation, says it can be stressful and even dangerous work. She'd like to have health insurance and some job security.

"We make 'em fly happy, and make the planes clean and get 'em out on time," says Cummins. "But I think if the passengers and the public knew our working conditions are not all that great, they would probably change their minds just a little bit."

Cummins says she has shared her views with Alaska Airlines and the Port of Portland Commission. Many service jobs that used to be done by airline employees today are routinely provided by low-bid contractors.

The survey was done by airport workers who are considering forming a union, with assistance from Service Employees International Union (SEIU) Local 49. SEIU is asking the Port to adopt a set of minimum standards to improve working conditions.