Public Transportation Gets $16 Million Boost in Northern NV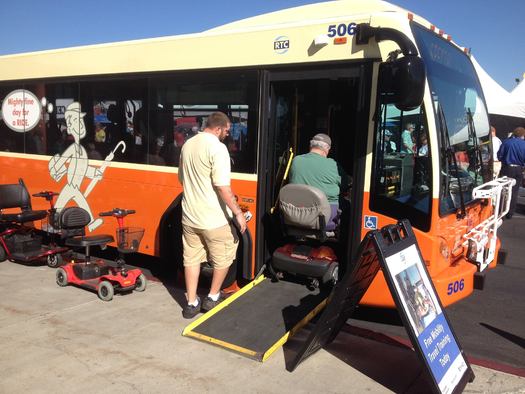 PHOTO: A $16 million federal grant will be used to add and improve public transportation options in the Reno-Sparks area. Photo credit: Regional Transportation Commission of Washoe County.
September 15, 2014
RENO, Nev. - Public transportation in the Reno-Sparks area is getting a $16-million boost from a federal grant. Joe Herrington is public information officer with the Regional Transportation Commission of Washoe County. He says the grant from the U.S. Department of Transportation will better connect downtown Reno and downtown Sparks, and revitalize the Fourth Street/Prater Way corridor.

"Basically, we are planning a very big project to improve transportation for everyone in the area," Herrington says. "Everything from bike lanes to wider sidewalks, to better bus stops. But significantly, we're looking at expanding our RTC Rapid Service, which are those big, long articulated buses."

Harrington says the project will also support businesses, many of which are taking root in historical buildings. He says U.S. Senate Majority Leader Harry Reid was critical in winning the grant, which is also bringing several million dollars of transportation improvements to Southern Nevada.

Senator Reid says the projects also will ensure that millions of tourists who visit the Silver State each year can access top-notch public transportation. Another goal, according to Harrington, is to improve public transportation in an area where one-in-five people lives in poverty.

"These are people who are economically disadvantaged, who will substantially benefit from having better transportation in this area, and being able to connect to so many additional employment opportunities," says Harrington.

Harrington adds, the grant includes money for several more electric buses in the RTC fleet. Construction on the project is expected to start in early 2016.