Food Insecurity: For Some, Part of Life After 50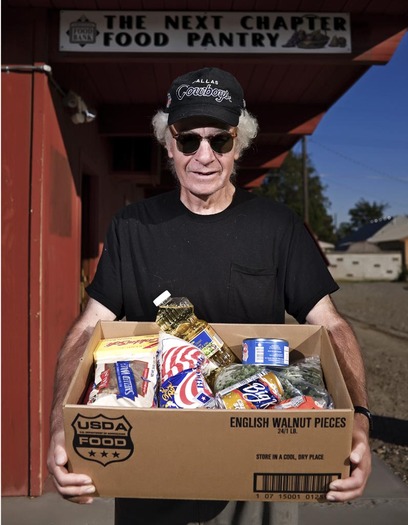 PHOTO: A high percentage of people age 50 or older in Oregon don't apply for SNAP or food-stamp benefits even though they are eligible. For Hunger Action Month, AARP Oregon is calling attention to the need in this age group, particularly folks ages 50-59. Photo credit: Daniel Root for Oregon Food Bank.
September 17, 2014
PORTLAND, Ore. - Thousands of people in Oregon age 65 or older who qualify for the SNAP or food-stamp program don't sign up, according to a report from Partners for a Hunger-Free Oregon.

In all but five Oregon counties, the study found, fewer than half of the eligible seniors receive federal food assistance.

But the same could be said of another group - people in their 50s. Bandana Shrestha, director of community engagement with AARP Oregon, said they're approaching "senior" status - with many of the same expenses and employment challenges, but none of the benefits.

"You don't have Social Security, you don't have Medicare, you don't have Older Americans Act supports," she said. "So, you really are in a big gap period in life, where there's very little support services available to address some of the key, basic needs that you may be facing."

It's Hunger Action Month, and Shrestha said AARP Oregon volunteers are combing the state, asking people age 50 and older to share stories about their experiences with hunger. She said she hopes the month prompts employers to take a closer look at their hiring practices - and be more welcoming to older workers.

In some cases, said Katie Furia, who handles SNAP outreach for Partners for a Hunger-Free Oregon, people in their 50s and 60s who have never needed food assistance don't realize they're eligible, or don't know how or where to apply. Many times, she said, they pass it up for another reason.

"Oftentimes we've heard that they don't want to take benefits away from others who need them more," she said, "while the SNAP program is actually designed to expand and contract with need, so that anyone who is eligible would be able to receive benefits."

An AARP report on barriers to food-stamp access for people in their 50s also found that they assume the benefits they'd receive are so small that it isn't worth applying. In this age group, AARP said, the number of people considered "food insecure" increased by 38 percent in the first few years of the recession.

The Partners for a Hunger-Free Oregon report is online at oregonhunger.org.
Chris Thomas, Public News Service - OR