Coloradans Doing More with Less: New Census Data Released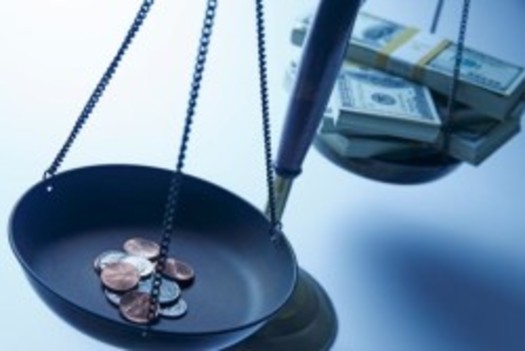 Photo: The gap between the poorest and wealthiest in Colorado is widening, according to Census data released Thursday. Photo courtesy of the Colorado Fiscal Institute.
September 18, 2014
DENVER - According to the latest Census data released Thursday, Coloradans are, at least on paper, making slightly more money than they were a year or two ago.

The state's median household income increased by 2.4 percent since 2012, but experts warn it's important to read between the lines. Median household income is still below pre-recession levels and Chris Stiffler, economist with the Colorado Fiscal Institute, says that's why many citizens feel like their budget is a little tighter these days.

"The data really shows these people aren't alone. Households across Colorado are feeling the squeeze," he says. "It really highlights the kind of growing disconnect between how we measure the economy and how that actually translates to actual Colorado families."

Stiffler says greater analysis of the data also shows the gap between the wealthiest and poorest of the state is widening dramatically. According to the Census numbers, 20 percent of Coloradans earn close to a majority, 49.7 percent, of all income in the state.

With 70 percent of Colorado's economy driven by consumer spending, Stiffler warns the growing income disparity will ultimately catch up with everyone.

"When you have families who are having three, four thousand, five thousand less than they did five years go, that's that much less dollars spent in your local grocery store, that much less dollars spent at your local restaurants," says Stiffler. "It has a multiplier effect."

The Colorado Fiscal Institute is recommending the state fast track the implementation of the Earned Income Tax Credit for qualifying families, and state constitutional reform that would allow lawmakers the freedom to reform the tax system and have more control over the state budget.

On paper, Coloradans are making slightly more, according to the latest Census data released today (Thursday), but as Stephanie Carson explains, there's much more to the story for a majority of citizens.