B.U. Workers March at Rush Hour to Press for New Contract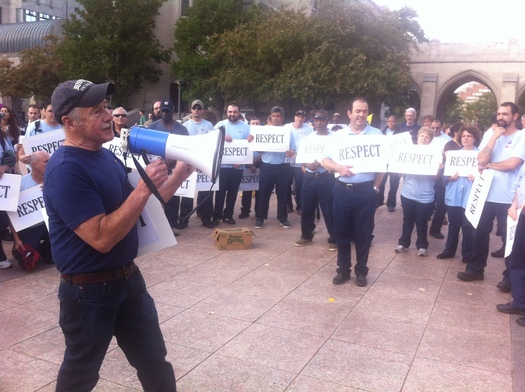 PHOTO: About 100 workers from Boston University marched during rush hour Wednesday to press for a cost-of-living increase and health care benefits. Photo credit: E. Villasante.
October 16, 2014
BOSTON – Rush hour found workers from Boston University marching down Commonwealth Avenue Wednesday, pressing for action on their soon-to-expire contract.

Roxana Rivera, director of the property service workers union 32BJ SEIU District 615, says among the 100 who marched were custodians, mail room personnel, groundskeepers and skilled trades workers.

She says they carried signs declaring their work is a major factor in keeping BU a top-notch university.

"Good jobs, strong communities, we make Boston University strong," she states. "Seven hundred families have been able to live in the Boston region and take care of their families, we want to be able to have that continue."

The current contract for support workers at Boston University is set to expire Oct. 31.

Rivera says both wages and health benefits are on the table in the negotiations that began in August.

"We want a cost-of-living wage increase that kind of honors the hard work of these workers, especially in what we believe are good times for Boston University," she says, "and continue to have affordable health care for workers."

Rivera says this contract is especially important in light of a recent Brookings study, which found that Boston ranks fourth among large cities for its high rate of wage inequality.