Oregonians Weigh In on Family Caregiving Challenges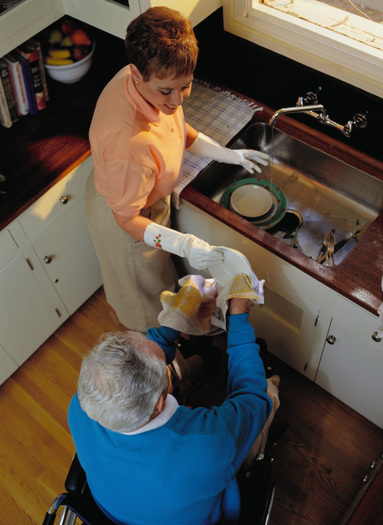 PHOTO: Eighty-four percent of Oregonians age 45 and older said they help older loved ones with household chores. Transportation, shopping and medication management are other common responsibilities of family caregiving that allow people to remain in their homes. Photo courtesy of AARP.
November 21, 2014
PORTLAND, Ore. - As they age, most people want to be able to live independently and at home as long as they can. That's the not-so-surprising finding of an AARP survey of Oregon voters age 45 and older.

In the survey, half of the respondents said they now are providing - or have provided - unpaid care for a loved one, and three out of four think Oregon needs more resources and training for family caregivers.

Janet Martinez of Portland, who is living the survey results with her 92-year-old mother, said there's always a need to be met - and no choice but to handle it.

"It is a 24/7," she said. "You know, did she fall? Has something dropped? We go out - watch the step, get in this - it's being hyper-vigilant. It might get easier for me in terms of having help, but we're kind of in this weird gap, before that."

The survey found most caregivers assist their older loved one with household chores, shopping and transportation, as well as medication management and other health-related tasks.

Martinez also has a 10-year-old daughter, and instead of the "sandwich generation," she jokingly refers to herself as a member of the "panini generation" - getting the filling squeezed out of the sandwich as she juggles caregiving and other priorities.

"There's this whole emotional toll that I don't think gets talked about," she said. "We know caregiver burnout, we know caregiver stress, caregiver death - but what about all those gaps in between, that we need to start discussing and filling?"

For instance, Martinez said, it would be helpful to have someone to just socialize with her mother, so she feels less isolated.

AARP has launched an online campaign this month to prompt more caregivers to share their stories at aarp.org/Iheartcaregivers. November is National Family Caregivers Month, a role that describes more than 460,000 Oregonians.

Chris Thomas, Public News Service - OR