Winging It: North Carolina Students Learn About Conservation Through Butterflies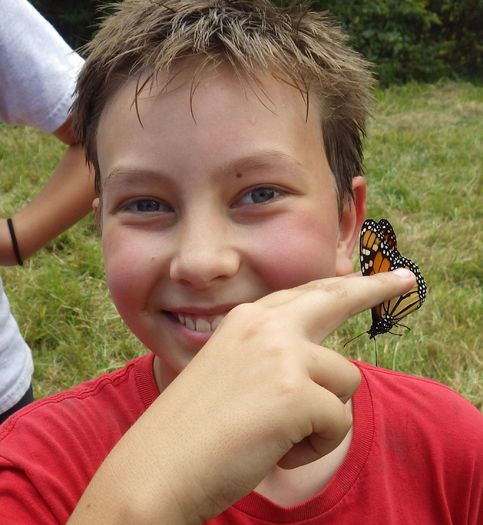 PHOTO: Macon County fifth- and sixth-grade students gain hands-on education in migration patterns and butterflies at the Tessentee Bottomland Preserve. Photo credit: Land Trust for the Little Tennessee.
December 9, 2014
FRANKLIN, N.C. - A group of students in one North Carolina community is 'a-flutter' about land conservation, thanks to a tiny winged species.

For the past five years, fifth- and sixth-grade students in Macon County have collected data on butterflies at the Land Trust for the Little Tennessee's Tessentee Bottomland Preserve. The children recently completed this year's study, and program director Jason Love says kids and butterflies make perfect partners.

"Butterflies make really great insects to study, particularly for school children because, one, they're deaf, so kids can be as loud as they want around them and still really get a hands-on look at butterflies," Love explains. "Put an aerial net in a student's hand and tell them 'go catch stuff,' and students really respond to that."

Over the last five years, students have caught and released almost 700 butterflies, representing 33 species. They've also tagged 23 Monarchs as they travel from Canada to Mexico. Organizers of the program say participants gain a greater understanding about migration patterns and the importance of conserving lands to preserve the habitat of butterflies and other species.

Sixth-grade student Carter Payne participated in the program this year, and says she was surprised to learn what butterflies go through to survive.

"It changes how I think about them because they have to go through so much more work than I actually thought was being put into what they have to do every year," she says.

Love says the lessons taught through the program are valuable as land trusts in North Carolina help raise the next generation to care for the environment.

"Trying to instill that sense of wonder and connect children to the land is one of the goals of the land trust," says Love. "Who is going to be the future stewards? Who's going to be the future conservationists if you don't have that connection to the land?"

The Land Trust for the Little Tennessee helps conserve the water, forests, farms and heritage of the seven far-western counties of North Carolina and northern Rabun County, Georgia.
Stephanie Carson, Public News Service - NC