From White House to NY Homes – A Day for Babies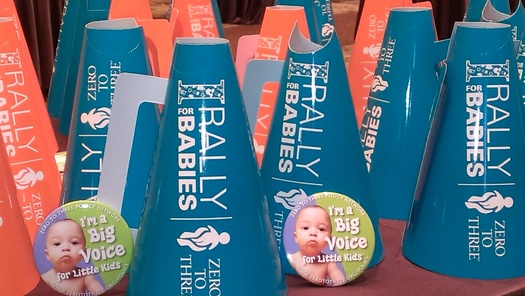 PHOTO: The group Zero to Three and other organizations held what they called a "Rally4Babies" on Wednesday, in support of investment in child care and education. Photo courtesy Zero to Three.
December 11, 2014
GARDEN CITY, N.Y. - Wednesday was a big day for babies and toddlers, as the White House held a summit meeting on early education and groups such as the New York-based Parent-Child Home Program advocated for continued federal funding of the Maternal, Infant and Early Childhood Home Visiting Program, which expires in March.

Parent-Child Home Program executive director Sarah Walzer applauds President Obama for calling on Congress to expand access to high-quality preschool for every American child. But, she says, before pre-K, many kids, mostly from low-income families, can benefit from home visitations.

"It's important because this programming is critical for making sure children are prepared to enter school ready to be successful," Walzer says.

Meanwhile, three Long Island funds, the Rauch Foundation, the Hagedorn Foundation, and the Horace and Amy Hagedorn Fund chose the occasion to announce an increase in their investments in early care and learning programs to $13.5 million during the next five years.

The president brought together local and state elected officials, policymakers and advocates at the White House Summit on Early Education. In attendance was Helen Blank, director of Childcare and Early Learning, National Women's Law Center, who said research was discussed that shows how critical a child's brain development is during the first three years of life.

"By the age of three, low-income children already have an enormous vocabulary gap and an enormous learning gap," said Blank. "In order to support families and children, you need programs like home-visiting programs."

The Parent-Child Home Program, which has its origins at New York's Columbia University, has reached more than 70,000 families since it began replicating and expanding. Now, more than 7,000 families are served annually. Walzer emphasizes the importance of continued support.

"Unless we fund programs that work with families when their children are from birth to age four before they start pre-K, and then fund, fully, pre-K programs, we're not going to get those children who are able to succeed in school," she says.

The National Women's Law Center, the group Zero to Three and other organizations held what they called a "Rally4Babies" Wednesday, in which texting of selfies was encouraged to support investment in child care and education.
Mark Scheerer, Public News Service - NY