Building with a Future Focus: Iowa's Residential Revolution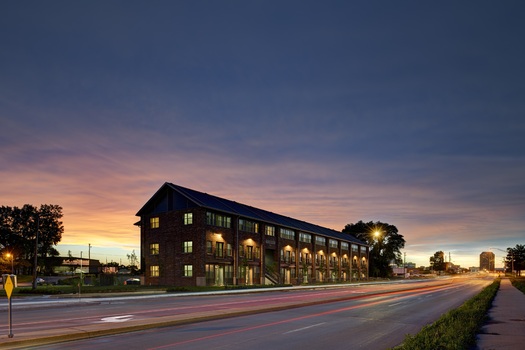 PHOTO: Among the winners of this year's Best Development Awards from 1000 Friends of Iowa is the Madison Flats apartment building in Des Moines. Photo courtesy: 1000 Friends of Iowa.
January 14, 2015
DES MOINES, Iowa - It's been a steadily changing trend in Iowa - and more often, there's a focus on the future and quality of life in residential construction and renovations.

According to Siobhan Spain, program director for the Best Development Awards, at 1000 Friends of Iowa, the state has one of the largest housing stocks in need of attention in the nation. The group now is honoring those communities and residents addressing the issue with an eye on social, economic and environmental sustainability.

"These 'smart growth' principles that we acknowledge in the winners this year really understand the connection between residential and the community," she said. "And they really inspire the community that they can really make a change for the better."

Among the winners of this year's Best Development Awards is Madison Flats in Des Moines, an apartment building on a formerly contaminated site that's hoped to spark further development in that neighborhood.

Other awards for commercial, civic and mixed-use developments went to projects in Slater, Stanton, West Union and Woodbine. Spain noted that this was the first year of recognizing stormwater management, which can be key in flood mitigation.

"That went to the Green Alley program up in Dubuque," she said. "So, that's exciting and that's really great to be able to acknowledge wonderful projects that are happening in Iowa that focus on flood management and wastewater."

Spain said Dubuque's 12-phase, 20-year project retrofits alley infrastructure within the Bee Branch Watershed with what is known as "pervious" pavement. It allows stormwater to soak into the ground, reducing runoff by up to 80 percent.

Award information is online at new.1000friendsofiowa.org.