Two KY Lawmakers Want Prosecutors to Put a Price on Death Penalty Cases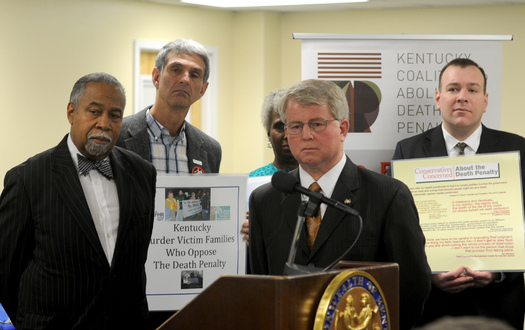 PHOTO: Sen. Gerald Neal, D-Louisville, left, and Rep. David Floyd, R-Bardstown, want prosecutors to help the state put a cost on the death penalty. Photo courtesy LRC Public Information.
January 28, 2015
FRANKFORT, Ky. - Kentucky has the death penalty - but no firm price tag on what it costs to send a convicted felon to death row.

Sen. Gerald Neal, D-Louisville, and Rep. David Floyd, R-Bardstown, who both oppose the death penalty, have filed companion resolutions -
SCR 11 and HCR 30 - to determine the costs of administering the law. While public defenders have provided cost estimates, the lawmakers say, prosecutors have been unwilling to cooperate.

"It's irresponsible to not at least know what those costs are," Neal said, "and how they effect the bottom line of the Commonwealth."

Neal and Floyd also have filed bills to make life without parole the maximum sentence in Kentucky.

Floyd said putting a price tag on the death penalty would help appeal to the "conservative side" on the issue by focusing on the "waste" spent on what he called "a very broken system."

"I believe that it's in the hundreds of millions," Floyd said. "I think we can solidly just guesstimate $100 million since 1976 that has been essentially been wasted if you consider that only one person in all that time has been involuntarily executed."

Meanwhile, Floyd said, 52 people sentenced to death in Kentucky have had their sentences reduced or exonerated.

When the idea of a cost study was first brought up six years ago, state Attorney General Jack Conway rejected the idea, saying there is no easy way to quantify the costs. Again this week, Conway said through his spokesperson that nothing has changed. Yet, other states have managed to put a price tag on the death penalty, something Floyd said Kentuckians deserve.

"I think it's important for the people of Kentucky to know this," Floyd said, "to have that information, so that they can understand how much of our resources are being wasted on this."

The latest state to put a price on its death row cases was Washington, where earlier this month a Seattle University study found that each case cost more than $3 million, $1 million more than similar cases where the death penalty was not sought.