Iowa Voters Want End to "Governing Under the Influence"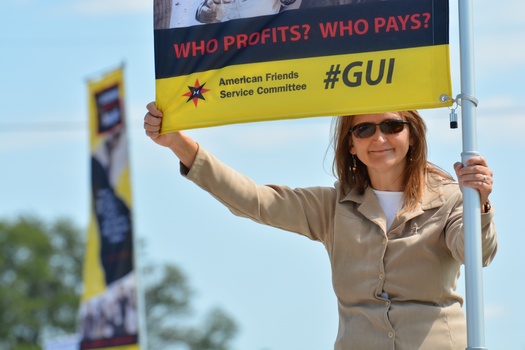 PHOTO: With political spending growing ever larger and voter engagement on the decline, a weekend event in Iowa seeks to reverse those trends and make sure all people have a voice in elections and government, not just the wealthy and powerful. Photo credit: AFSC.
February 6, 2015
DES MOINES, Iowa - With Iowa's unique and influential position in presidential politics, a new nationwide campaign kicks off in the state this weekend with a goal of giving the power back to the people.

The American Friends Service Committee is hosting the gathering on Saturday to mobilize citizens to turn the tides against the massive flow of money to campaigns and candidates, leading to what Kevin Rutledge, the group's grassroots education coordinator, called "governing under the influence."

"Our government is under the influence from corporate power and money and not under the influence from the people," he said. "So it really makes you think, 'Whose election is this? And whose government is this?' And how our politicians can be easily influenced by whoever has the most money."

The amount of outside political spending has been growing exponentially in recent years because of federal court decisions, with the total from the 2012 and 2014 elections alone estimated at more than $1.6 billion.

With that kind of big money involved in elections, many without the financial means feel little can be done to change the system to make sure all voices are heard not just those of the wealthy and powerful. But correspondent John Nichols with "The Nation" magazine said concerned citizens can make a difference by getting involved, noting that 100 years ago most Americans had no say in the political process.

"We did not allow women to vote nor - in many of our states - did we create an avenue for African-Americans and in some cases Hispanics and Asian-Americans to vote," he said. "What did we do about that? Well, we amended the Constitution of the United States and a host of other initiatives to expand the franchise to everybody."

Nichols will be the keynote speaker at Saturday's gathering with a call to action for democracy in the common good, to be held at First United Methodist Church in Des Moines. Details of the event are online at afsc.org. Data on outside spending is at opensecrets.org.
John Michaelson, Public News Service - IA