Deadline Nears to Sign Up for Health Insurance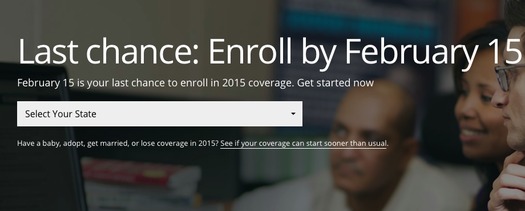 PHOTO: Michiganders needing to obtain or renew health insurance for plans offered under the Affordable Care Act must do so by this Sunday or risk paying a penalty. Image courtesy of www.healthcare.gov.
February 9, 2015
LANSING, Mich. – With just days to go in the open enrollment period, a record number of Michiganders have signed up for health insurance under the Affordable Care Act (ACA).

According to the latest data from the Department of Health and Human Services, nearly 300,000 Michigan residents have selected plans since November.

Philip Bergquist, director of health center operations with the Michigan Primary Care Association, calls it a very positive trend.

"We're looking at the enrollment data and seeing a lot of plan selections in Michigan in a shorter time period than we had last year," he says. "Still more plan selections than the previous open enrollment period."

Open enrollment runs through this Sunday, Feb. 15.

People can get more information on the different health care plans at healthcare.gov, and opportunities for in-person assistance can be found at enrollmichigan.com.

Bergquist says between the plans offered through the ACA and the success of Healthy Michigan, the state's expanded Medicaid program, Michigan is making big strides in reaching the uninsured.

"Healthy Michigan plan has over 530,000 people enrolled – a good chunk of them came in through Healthcare.gov," he points out. "So, we're really happy to see the multiple coverage options working together."

During the first open enrollment season, 272,000 Michiganders signed up through the exchange.

This will be the first time that many people will see tax penalties if they fail to sign up.



Mona Shand, Public News Service - MI