GOP Sen. Alvarado: A Doctor Who Wants a Smoke-Free Indoor Kentucky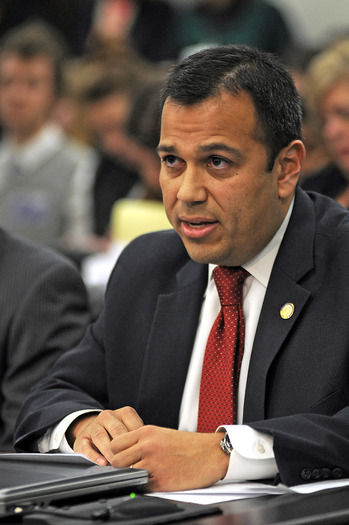 PHOTO: Doctor-turned-state lawmaker Sen. Ralph Alvarado says Kentucky needs a statewide, indoor smoke-free law. A bill prohibiting smoking in all public places and workplaces is now before the House. Photo courtesy LRC Public Information.
February 10, 2015
FRANKFORT, Ky. - With a vote possible this week in the Democrat-controlled Kentucky House on the proposed smoke-free bill, a newly-elected Republican senator is speaking up for the idea.

Senator Ralph Alvarado, a doctor from Winchester in Clark County, says he favors the proposal. The bill would require smokers to be at least 15 feet outside a workplace or public building before lighting up.

"It's okay to be a Republican and support something that's going to help save lives and help us be more fiscally responsible in the state," says Alvrado. "And it's going to help us save money."

The bill emerged last week from a House committee on an 11-4 vote. According to a new Kentucky Health Issues Poll, two-thirds of Kentuckians support the law. The poll found 68 percent of Democrats are in favor, while 67 percent of Republicans also approve - marking a three percent increase in GOP support from the previous year.

Jeff Armstrong owns a barbershop in Hardinsburg in Breckinridge County where there is no smoke-free law, but his business is already smoke-free. Armstrong, who is also a Republican, says he opposes over-regulation of business by government - but favors a statewide smoke-free law.

"When you do something for yourself, because of yourself, if it's going to hurt other people - do it on your own but don't do it around other people," he says.

About one-third of Kentucky's population is covered by a patchwork of local smoke-free ordinances.

Opponents of a Kentucky-wide law have argued smoking policies should be left up to local governments. Senator Alvarado says he has gotten some pushback from them.

"I do get some grief from people about it, because they think it's trampling on individual rights," he says. "But I also believe in the individual rights of people that have to inhale secondhand smoke. People that are workers who perhaps don't have the option of any other employment but where they're working at."

Alvarado says he's convinced the law would save lives, and what he describes as "hundreds of millions of dollars" in health care costs.
Greg Stotelmyer , Public News Service - KY