"Keep Public Lands in Public Hands" Rally at Idaho Capitol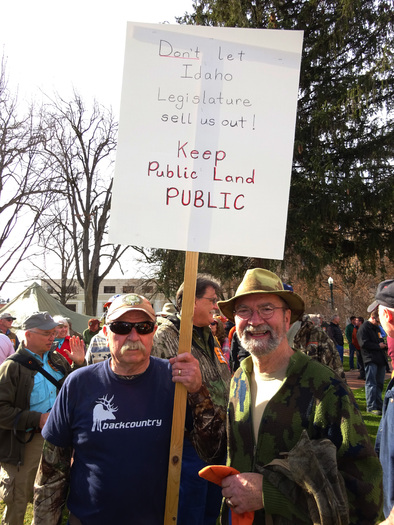 PHOTO: About 500 hunters, anglers, and fans of outdoor recreation rallied on the Statehouse steps today for the "keep public lands in public hands" rally. Photo credit: Deborah C. Smith.
February 12, 2015
BOISE, Idaho - About 500 people are expected on the Idaho Statehouse steps at 12 noon Thursday for the "keep public lands in public hands" rally.

The Idaho Legislature has been exploring options to transfer control of most federal public lands to the state, with backers saying the state could do a better job managing the land, and would make money by selling timber and other resources.

Tim Brass at Backcountry Hunters and Anglers says his group is "100 percent" against the idea. He says federal public lands are reserved for multiple uses.

"It's to assure we have quality water and open access to hunt, fish and recreate," says Brass. "When we look at this idea of public lands potentially being transferred, a lot of red flags are going up."

There have been conflicting reports about whether it is economically feasible for the state to control the land, and there are questions about whether the state can legally challenge ownership of federal land. Similar moves over the years have failed in the courts.

Brass says there's no question in his mind "state control" would mean loss of access - whether the land was sold to developers outright, or leased for projects. He points out federal public lands have many values beyond the price tag of a sale.

"Everybody can use them, and there is logging and there is oil and gas development, but there's also areas that are set aside for backcountry sportsmen and for the wildlife," he says.

Participants are riding buses from Idaho Falls, Pocatello and Twin Falls to attend the rally. The Theodore Roosevelt Conservation Partnership, Trout Unlimited and Idaho Wildlife Federation are also involved.