NC Citizens Want to Put Freeze on Offshore Drilling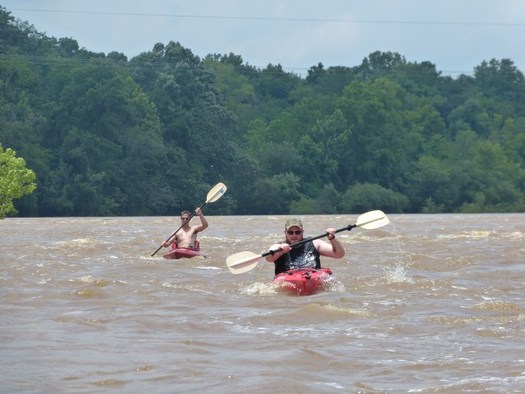 PHOTO: Companies such as Cape Fear River Adventures count on the health of the North Carolina coast and are concerned about the possibility of offshore drilling. Photo credit: Cape Fear River Adventures
February 18, 2015
WILMINGTON, N.C. - With its 300 miles of coastline, North Carolina has a lot at stake when it comes to the health of the Atlantic. It's why government, environment and business leaders are joining together to voice their concerns over the Obama administration's recent announcement that it would open up the state's entire coastline to offshore drilling.

Capt. Charles Robbins, owner of Cape Fear River Adventures, is concerned about how drilling could change the health of the coast and wildlife.

"And if there was a spill, which you know there will be, and all oil wells leak," he said. "It's just all risk for something that we consider not needed, and it's just a lot of different layers of potential damage that cannot be cleaned up."

According to a recent report by the conservation advocacy group Oceana, fishing, tourism and recreation support almost 51,000 jobs and generate more than $2 billion annually. The same report estimates that offshore drilling would create 25,000 jobs, about half of the estimated number that would be created if the state developed its offshore wind potential.
According to the oil and gas industry, drilling is necessary to maintain the country's energy independence.

As someone who has worked on the water for more than 20 years, Robbins is specifically concerned about the geography of North Carolina's coastline since the Gulf Stream would spread any oil spill more quickly, compared with other coastlines in the world.

"Here it would just be catastrophic, and it wouldn't stop here," he said. "It would spread all through the north and it would spread rapidly. It's almost a 6-mile-per-hour current on the Gulf Stream."

The lease sale of the coastline is expected to happen between 2017 and 2022, but Interior Secretary Sally Jewell has said in published reports that it's possible the feds wouldn't go ahead with the sale of leases. That's why Robbins and others are working hard to make their concerns heard.

The Oceana report is online at oceana.org.
Stephanie Carson, Public News Service - NC