Wisconsin to Host Huge Grassroots Political Gathering This Weekend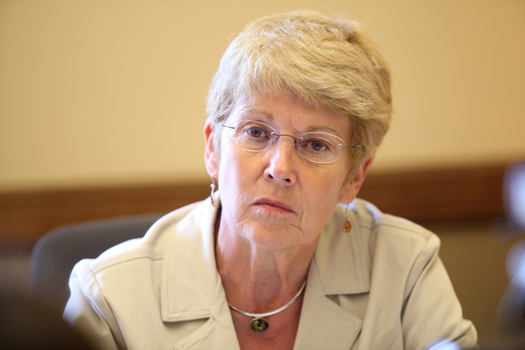 PHOTO: One of the featured speakers at the Seventh Annual Wisconsin Progressive Grassroots Festival in Mazomanie Saturday is state Rep. Sondy Pope, D-Cross Plains, who says the Citizens United decision has allowed wealthy people and corporations to purchase election results. (Photo credit: wisconsinwatch.org)
March 25, 2015
MAZOMANIE, Wis. - The Wisconsin Progressive Grassroots Festival is one of the largest gatherings of its sort in the nation, and the festival this Saturday at Wisconsin Heights High School in Mazomanie will be the seventh annual get-together. The event features more than 20 sessions on current political topics.

One of the speakers, state Rep. Sondy Pope, D-Cross Plains, said people are searching for a new way forward, feeling that their government has let them down.

"I think they have come to realize that in view of Citizens United and the huge money coming in from people like the Kochs and the Walton family that elections are being purchased," she said, "and the answer to that lies in a grassroots effort to change that."

Pope said one of the reasons for the continuing popularity of the grassroots fest is that people who attend come away with enthusiasm and hands-on information about how they actually can make a difference in the quality of life in Wisconsin. The suggested donation of $20 includes lunch, and registration information is online at wisconsingrassroots.net.

Pope, who sits on the Assembly Education Committee, will talk about the huge changes taking place in public education. She said people are not well-informed about what's going on because too often the media don't have a good grasp of the issues.

"I think if you asked any journalist anywhere in Wisconsin to talk about - just off the cuff - the differences between private charter, public charter, voucher, parental choice - those sorts of things, they could not do it," she said. "It's very complicated."

Pope said public education is being financially starved to death.

"I think what people fail to realize," she said, "is that this administration is purposely - and this isn't just Wisconsin, this is nationally - purposely starving public education in order to call it 'failing' in order to hand it over to private entities for profit."

Other speakers at the fest include U.S. Rep. Mark Pocan, D-Wis., Kevin Kane of Citizen Action of Wisconsin and money-in-politics expert Mike McCabe.