Two Prominent Child Abuse Survivors Tell Their Stories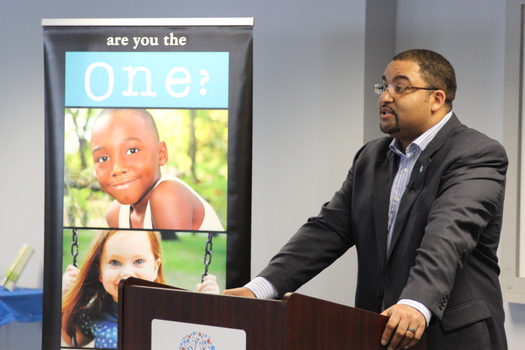 PHOTO: West Virginia child abuse survivors who have become public figures, including TV news anchor Greg Carter, are coming forward to talk about what happened to them. Photo credit: Will Laird/West Virginia Child Advocacy Network.
April 9, 2015
CHARLESTON, W.Va. - April is Child Abuse Prevention Month, and some abuse survivors who have become public figures are coming forward to tell their stories.

Stephen Smith, director of the West Virginia Healthy Kids and Families Coalition, says his work is motivated in part by two points: Bad things happen to pretty much everybody, and the state needs to try to heal broken people.

"I was sexually abused when I was about three or four, and the person who hurt me was hurt themselves," he says. "The teenager needed help and probably a little bit of mercy and forgiveness."

According to Prevent Child Abuse America, one in six U.S. boys is sexually abused. The Centers for Disease Control estimates the lifetime additional cost for each child abuse survivor is more than $200,000.

Greg Carter, a TV news anchor at WVVA in Bluefield, says his father was an alcoholic. While his dad physically abused him from the time he was born to age eight, Carter has had night terrors and suppressed memories well into adulthood. As the state works to reduce the number of juveniles it locks up, he says it needs to consider abuse as a root cause, rather than just punishing kids for a rigid number of unexcused school absences.

"We're not looking at their home situations. We're not looking at things that may have propelled them to act out in this way," he says. "Until we can heal that part of a juvenile, you're never going to get to the bottom of why they're doing the things that they're doing."

This is the first time Carter has publicly discussed what happened to him. He has recorded a public service announcement that will air statewide to heighten awareness and encourage adults to take responsibility and action.

For Smith, part of the solution is resiliency - building children and families that can bounce back.

"I don't know that we're ever going to prevent all awful things from happening," he says. "But if we build families and we build neighborhoods and states that are strong enough, when those awful things happen our lives won't crumble."

More information is available at the West Virginia Child Advocacy Network website at www.wvcan.org, or at (304) 414-4455.