Clark County Gets Failing Grade in Air Quality Report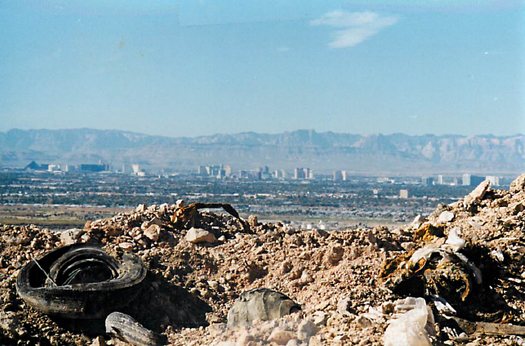 PHOTO: Climate change is among the factors contributing to severe air pollution that has earned Clark County an F grade in an annual American Lung Association report tracking the nation's most polluted cities and counties. Photo credit: Environmental Protection Agency.
May 1, 2015
LAS VEGAS - Climate change is being called a major cause of Clark County's failing grade in the American Lung Association's annual State of the Air report released this week.

The report also ranks Las Vegas ninth worst in the nation for ozone pollution, said Christian Stumpf, the association's regional director of public policy, adding that the warming of the planet is causing a lingering drought, which is causing more air pollution.

"Climate change is causing warmer weather, which impacts ozone," he said. "and it's also causing drier weather, which has an impact on particle pollution through longer and worse wildfire seasons and - pretty much - clean air."

Stumpf said the drought means there is less rain to wash away air pollutants, and severe wildfires also add particles to the air.

According to the report, 44 percent of Americans live in counties with unhealthy levels of either ozone or particle pollution. In Clark County alone, Stumpf said, there are about 150,000 people with asthma who could suffer a serious health event because of poor air quality. He encouraged people to work on reducing air pollution.

"Carpool, try to drive less, turn your engine off when you're picking the kids up at school when you're waiting," he said. "Maybe, instead of sitting in the drive-through at a restaurant or the dry cleaners, go inside."

The State of the Air report again ranked Los Angeles as having the worst ozone pollution in the nation, whereas Bellingham, Wash., is rated the cleanest city.

The report is online at stateoftheair.org.
Troy Wilde, Public News Service - NV