Oregon Towns Go to Great Lengths to "Stamp Out Hunger"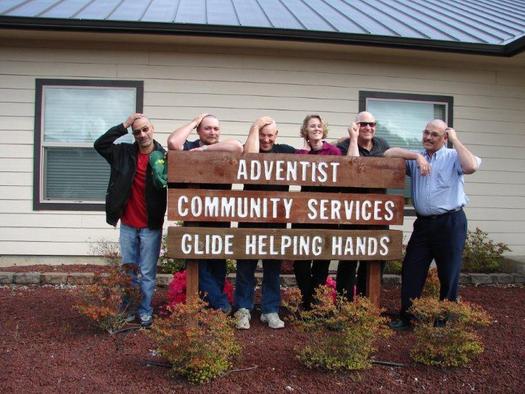 PHOTO: To encourage food donations, organizers of the Stamp Out Hunger drive in Glide, Ore., even promised to shave their heads in 2010. And it worked! The town collected 8,000 pounds of canned goods for the local food pantry. Photo courtesy of UCAN.
May 6, 2015
GLIDE, Ore. - Mothers Day weekend has become synonymous with the "Stamp Out Hunger" food drive, when letter carriers from across the country collect food donations on their mail delivery routes.

In Oregon, it's a critical weekend for small-town food banks, since the food collected locally stays in the area. It can also be a way to build community spirit and have fun, and in Glide, Ore., things can get a little crazy.

Jeanine Coffey, who coordinates food-bank activity in Douglas County for UCAN, the United Community Action Network, said a few years ago, the postmaster, food pantry head and others in Glide made an interesting pledge if the town exceeded its food-donation goal.

"The men would shave their heads and the two women would get short haircuts," she said. "And there were shaved heads going on there in Glide! That community just has totally embraced the food pantry, and they realize what a need there is, especially in the rural communities."

Stamp Out Hunger day is Saturday. Anyone can set donations of nonperishable food items in or near their mailbox and a letter carrier will collect them. It's best to donate food in cans or boxes rather than glass.

In Burns, letter carrier Georgie Witzel said the Stamp Out Hunger drive also is a big event.

"Here in Harney County, it's very, very important," she said. "I went over to the Senior Center, where our food bank is - there's not a lot in there. And we have a lot of people in our community that really rely on the food bank - and they get most of their food from our food drive."

Oregon Food Bank's statewide goal for Oregon and Clark County, Wash., this year is 1.3 million pounds of food.