Battle Continues about Oil Rig "Homeport" in Seattle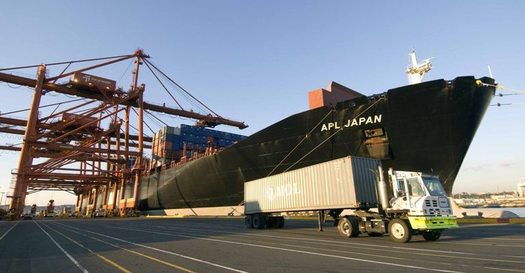 PHOTO: The cargo-shipping business is booming at the Port of Seattle, prompting some to ask why the port needs to open its Terminal 5 to a company that repairs oil rigs. Photo courtesy Port of Seattle.
May 13, 2015
SEATTLE - Port of Seattle commissioners will appeal a Seattle Department of Planning and Development finding against a Shell Oil contractor leasing Terminal 5 as its homeport for repairing oil rigs on their way to Alaska. But late Tuesday, port commissioners also voted to warn the contractor that it can't move forward without a definitive ruling.

A separate lawsuit was filed in March to prevent the oil homeport for environmental reasons. In that case, plaintiffs' attorney Patti Goldman of Earthjustice said allowing oil rigs at the port doesn't fit the future of Seattle.

"The port wants to be a green and sustainable port, and it wants to have a thriving container business," she said. "This homeport use is very different, and if we went that route, that would collide with the plans that the city has for green tourism and green business, and put everything on a different direction."

The technical issue is whether the port's current city permit for a cargo terminal can stretch the definition of "cargo" to include parts and repairs for oil rigs, or if the port should be required to get a new permit. After hours of public testimony, the commissioners seemed most concerned about the decision setting a precedent for the port's other operations.

In the meantime, rigs already are lined up to arrive in Puget Sound, and Goldman said that's a problem. She cited one, known as the Noble Discoverer, which had oil leaks in 2012 that cost its owner $12 million in fines.

"That's what we're bringing here, is a ship with a very bad track record that has still been cutting corners on safety. That really matters from a local level," she said. "And then, you put on top of it what are we enabling here, what are we facilitating - and that's Arctic drilling and exploitation of fossil fuels."

Goldman said Puget Soundkeeper and other groups believe bringing oil vessels into the sound would have negative consequences for water quality and fish, and they think the Port of Seattle should have had an environmental review before leasing space to Foss Maritime, a Royal Dutch Shell contractor. That lawsuit won't be heard until the end of July.