Holiday Weekend Brings Wildfire Danger to Forefront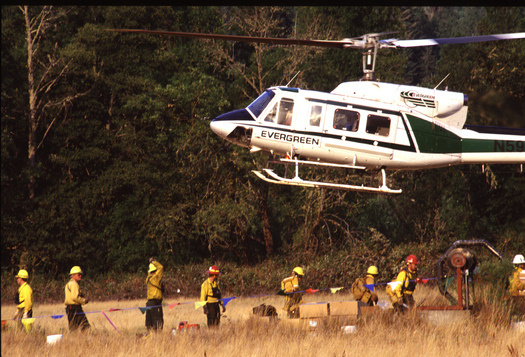 PHOTO: Wildland fire fighting crews and equipment are ready if needed over the Memorial Day weekend, but state and federal land management agencies are hoping they won't be. Photo credit: Tom Iraci/U.S. Forest Service.
May 18, 2015
OLYMPIA, Wash. – The first unofficial week of summer coincides this year with Gov. Jay Inslee's declaration of a statewide drought emergency.

On Washington's 12 million acres of federal land and almost 13 million acres of state-owned forestland, fire prevention is an intensely collaborative effort.

Bobbie Scopa, an assistant fire director who works with both the U.S. Forest Service and Bureau of Land Management, says the bureau already has authorized longer hours for fire crews and equipment for the Memorial Day weekend.

"We have spent he winter planning on the what ifs - and not just at the firefighter level, pulling hose and cutting line, but we're talking about at the agency executive level, just to make sure that we are ready," she stresses.

Scopa says inter-agency cooperation is key to moving fire crews and equipment quickly to wherever they're needed, and federal and state agencies in the Northwest are monitoring weather conditions and fuel sources daily.

She says the bureau will need the public's help more than ever to prevent wildfires.

Scopa says this may be the year to go camping without the campfire. She describes two of the most persistent problems as fireworks and exploding targets for sport-shooters, and reminds people that even having fireworks in a vehicle on federal land is against the law - let alone setting them off.

"It's illegal, and it's dumb, because we'll get an ignition from that, and then folks end up having to pay fire suppression costs," she stresses. "That's something that is non-negotiable for the feds - we are required to bill for suppression costs on forest fires."

The Washington Department of Natural Resources also can investigate and bill for fire costs, and says about half of the human-caused fires on state and private land either are the result of negligence or are started intentionally.

Chris Thomas, Public News Service - WA