Budget Stakes: Amtrak "Forced to Rob Peter to Pay Paul"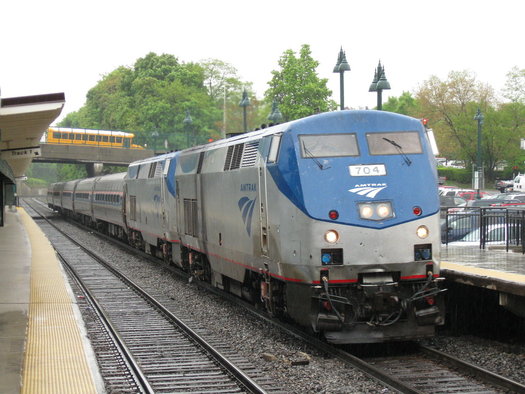 PHOTO: Senator Chuck Schumer (D-NY) says budget battles in Congress are forcing Amtrak to choose between important safety upgrades like whether to repair an outdated bridge or install positive train control. Photo credit - Wikimedia - Jaunted.com
May 26, 2015
NEW YORK - As commuters head back to work after the long holiday weekend, Senator Chuck Schumer says budget battles in Congress are making travel in the heavily traveled Northeast rail corridor less safe.

Japan's Bullet train hurtles along at 200 miles per hour but has never had a fatal accident and Senator Schumer says the same is true in France because both nations have made significant investments in railroad infrastructure. But he says Congress has left Amtrak with a $21 billion backlog that forces them to "rob Peter to pay Paul."

"If hard-right Republicans continue to under-fund Amtrak," says Schumer. "Amtrak will be forced to decide between replacing aging bridges that could become dangerous, replacing old and outdated tracks, or installing lifesaving technology on board our trains."

Last week, House Speaker John Boehner (R-Ohio) said it was stupid for Democrats to suggest Republican budget cuts might have contributed to the Amtrak derailment that left eight dead near Philadelphia. Senator Schumer joined seven other Northeast Senate Democrats in calling on the Senate to fully support Amtrak's funding request.

Connecticut Senator Richard Blumenthal says many of his constituents likely did some fist shaking while stuck in traffic jams over the long holiday weekend but he says fewer people would be driving if the rail system were safer and more dependable.

"I'm hoping they will direct those curses and those fists at John Boehner and the Republicans in the House that are blocking effective Amtrak transportation," says Blumenthal.

When lawmakers get back to work, The Senate Appropriations Committee has transportation on the agenda. President Obama's budget includes $500 million in capital improvement for the Northeast Corridor.
Mike Clifford, Public News Service - NY