Report Urges Shutdown of Oil Pipeline Under Mackinac Straits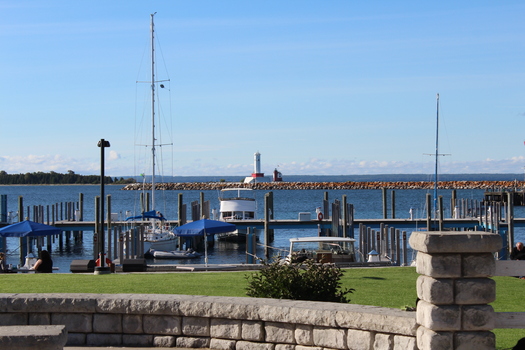 PHOTO: The sensitive waters surrounding Mackinac Island are the subject of a new report, which examines the safety of the oil pipelines owned by Canadian company Enbridge Energy that run under the straits. Photo credit: M. Shand
May 28, 2015
MACKINAW CITY, Mich. - It's a state and national treasure, but a new report concludes that Mackinac Island and the pristine waters that surround it are at risk because of the condition of the oil pipelines that run under the straits.

Among the issues cited by the environmental group For Love Of Water (FLOW), the 62-year-old twin pipelines operated by Enbridge were not built to withstand the impact of invasive zebra mussels, which can corrode and dangerously weaken steel.

David Holtz, chairman with the Michigan Sierra Club, says a line rupture or leak in this sensitive area would be catastrophic.

"Not only because of the inconvenience of the oil spill to a national landmark gem, but it gets all its fresh water from the lake, and they would have no fresh water there," says Holz.

The report calls for the pipeline to be shut down, pending a full public review of the potential harm and alternatives.

Just last week the state reached a settlement agreement with Enbridge on the 2010 rupture of its line near Marshall on the Kalamazoo River, which was the largest inland oil spill in the nation.

Last year, the state convened a task force to look at pipeline safety in Michigan, but it has not yet issued any findings. Holtz says the FLOW study highlights the need for immediate action, particularly given Enbridge's track record in the state.

"So their assurances that these pipelines, these old, corroded pipelines that have weak structure and outdated materials are OK, really lacks credibility," he says.

Last summer, a study from the University of Michigan referred to the Straits of Mackinac as the "worst possible place" for an oil spill in the Great Lakes, using a computer model to show how the powerful currents would carry the oil to shorelines miles away in a matter of hours.

Mona Shand, Public News Service - MI