Pope's Message of Faith, Climate Resonates in Indiana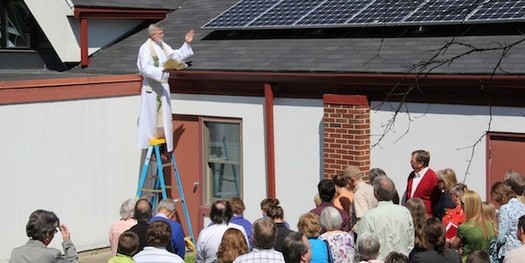 PHOTO: Hoosier Interfaith Power and Light works to reduce energy consumption in Indiana. The group is among those applauding Pope Francis' message that addressing climate change is a matter of moral obligations. Photo courtesy of Hoosier Interfaith Power and Light.
June 19, 2015
INDIANAPOLIS - Hoosiers from all walks of life are applauding Pope Francis' call for an ethical movement to stop climate change from destroying the earth.

In a papal encyclical, the pope said humanity's exploitation of natural resources is partly responsible for climate change.

Sometimes, it takes more than the facts to change opinions, said Archbishop Joseph Tobin of the Archdiocese of Indianapolis, adding that the pope is lending a powerful voice to an important message.

"Certainly the amount of interest and, frankly, the amount of resistance that's already been expressed means that he's touching a nerve," Tobin said. "I think it's the clearest statement of the moral responsibly of human beings for the stewardship of creation."

The pope said the world could see the destruction of entire ecosystems this century without urgent action on climate change. The pope said his reflections are intended to guide all people, regardless of religion, into a discussion on addressing environmental deterioration.

At St. Thomas Aquinas, Sharon Horvath teaches science and care creation. She said she believes the pope's message will inspire people to act.

"He's calling for people to become educated," she said. "Creation care looks at everything as a whole to try and help understand human role in creation and what we're called to do about it."

In Indiana, said Larry Kleinman, executive director of Hoosier Interfaith Power and Light, congregations of varying faiths, community groups, environmental organizations and power companies are collaborating on efforts to better care for the earth and reduce energy use.

"It's a deep spiritual issue that as people begin to understand the spiritual dimensions of that, really help to break down the walls," he said, "and I think that here in Indiana, that's just one of the most positive things that I see happening."

In September, Pope Francis will address lawmakers in the first speech by a pope to Congress. Tobin said he hopes leaders will listen.

"There are folks that get upset when the pope speaks, for example, about economic justice, saying, 'Well, you know, he should be saving souls,' " Tobin said. "Well, he also has to respect the word of God, which gives human beings an imperative to care for the world."

Some skeptics of climate change reacted to the encyclical by saying the pope should stay out of politics and stick to theology.

The encyclical, called "Laudato si," is online at w2.vatican.va.