Blackfeet Nation Celebrates Badger Two-Medicine Day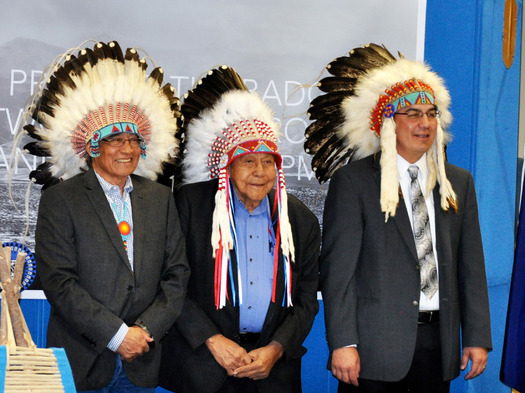 The Blackfeet Nation is hosting a Badger Two-Medicine Day on Saturday at Mitten Lake. Hikes, trail rides, language lessons and ceremonies all are free to the public. Credit. U.S. Forest Service.
June 26, 2015
BROWNING, Mont. - The Badger-Two Medicine area's history, landscape and recreational opportunities will be celebrated Saturday at Mitten Lake.

Badger Two-Medicine Day offers a plant-identification workshop, hikes and trail rides, Blackfeet language lessons and stories about the cultural heritage of the region.

Blackfeet troubadour Jack Gladstone said archaeological findings have documented the tribe's long connection to the land.

"Blackfeet Indian people have been in relationship with this area since we first became aware of ourselves and our identity," he said.

The celebration is against a backdrop of potential oil and gas development on leases granted in the 1980s. The Blackfeet Nation is asking the U.S. Department of the Interior to terminate the leases because they are on native sacred grounds.

U.S. Sen. Jon Tester, D-Mont., said the area is special for too many reasons to be used for development and has asked for the leases to be canceled.

"This land is adjacent to Glacier National Park and has unique cultural, historical and recreational significance for many families," he said.

Many leases in the region have been forfeited out of respect for Blackfeet heritage.

The Blackfeet Community College Native Science Field Center is co-sponsoring the event at Mitten Lake. It's free, all ages are welcome, and overnight camping is encouraged.

Event details are online at facebook.com.