Colorado River a Focus of Latino Conservation Week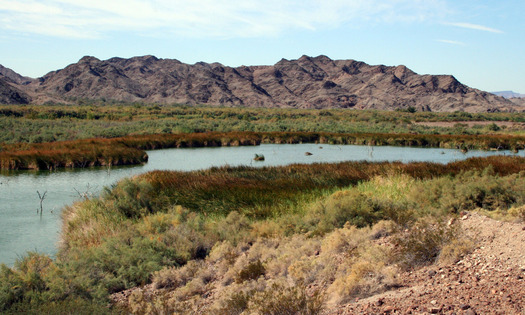 Young people from several Western states are gathering this week to learn more about the Colorado River's rich history and immense future challenges. Credit: Arizona Dept. of Water Resources.
July 16, 2015
PHOENIX - As part of Latino Conservation Week, young people from Arizona and several other Western states will come together to learn more about the incredible history and future challenges facing the Colorado River.

Ian Dale, a college student from Somerton, Arizona, is among about two dozen people with the Nuestro Rio Youth Leadership program, who are meeting in Colorado for a youth summit. He says the mission is centered on protecting and preserving the declining waters of the Colorado River.

"Informing them about policies and things that we could advocate for and talk to government officials about," says Dale. "It's mostly about educating and getting people motivated to help."

Dale says youth leaders can use the knowledge they gain for presenting at conferences, talking with their peers and elected officials, and to share their voices and ideas to help create solutions with policymakers.

Greg Webb, director of the Nuestro Rio Youth program, says people like Ian Dale have helped establish the first-ever Bureau of Reclamation Youth Council within the U.S. Interior Department. He says young people should be part of the conversation on issues as critical as preserving the Colorado River.

"A young Latino and Native American voice is often left out of the equation," says Webb. "As adults, sometimes we think we know what's best for our young people. But young people are experts in their own experience."

According to a study from Arizona State University, the Colorado River generates $1.4 trillion annually and supports 16 million jobs across the seven Colorado Basin states: Arizona, California, Colorado, Nevada, New Mexico, Utah and Wyoming.
Troy Wilde, Public News Service - AZ