Bipartisan Lawsuit Seeks to Close NY Campaign Finance Loophole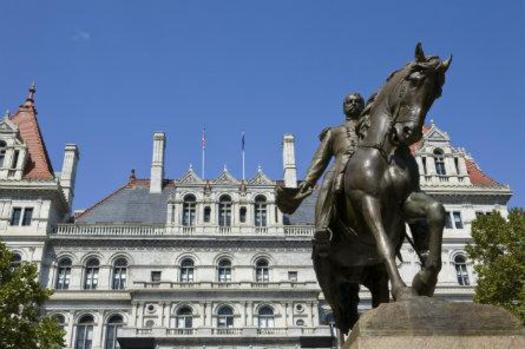 PHOTO: The State Supreme Court will decide if Limited Liability Corporations (LLC) are individuals in terms of their campaign contribution limits. Photo courtesy of Brennan Center for Justice.
July 17, 2015
NEW YORK - Liberals and conservatives have joined in a lawsuit to close what both groups see as a gaping loophole in New York's state campaign finance rules.

It's called the "LLC loophole," created in 1996 when the state Board of Elections decided that Limited Liability Companies should be treated as individuals.

For example, said Brent Ferguson, a counsel in the Democracy Program at the Brennan Center for Justice says, in a governor's race, corporations are limited to contributions of $5,000 per election cycle, but individuals can give slightly more than $68,000.

"On top of that problem, people can control multiple LLCs," he said, "and then they can give up to that individual limit through each separate one."

Ferguson said the contributions flow through this loophole to both Republicans and Democrats, and past efforts to reform the rule have failed along party lines. The lawsuit contends that closing the LLC loophole would make politics more responsive to the voters.

The amount of cash flowing from LLCs has risen dramatically, reaching almost $55 million in just the [ast two election cycles. Under the current rules, it's difficult to know who's behind some of these large campaign contributions. Candidates are required to name individual contributors, Ferguson said, "but if an LLC gives a candidate money, the candidate just reports that as coming from an LLC. So, many times we don't know who the actual people behind those donations are."

The lawsuit, filed in state Supreme Court in Albany, asks the court to order the Board of Elections to rescind the LLC rule and reconsider the issue.

More information is online at brennancenter.org.
Andrea Sears, Public News Service - NY