Coalition Proposes Owyhee Canyonlands as Wilderness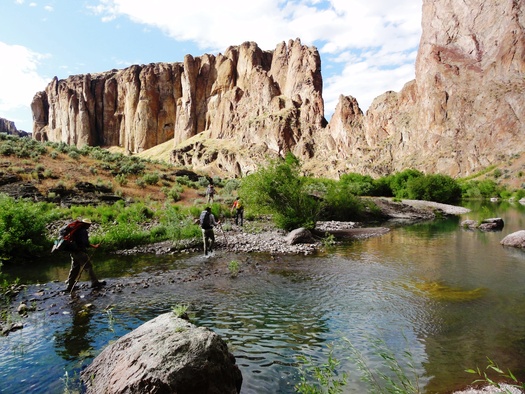 Hikes along the West Little Owyhee River are just one option for outdoor recreation in the Owyhee Canyonlands. Eight conservation groups have formed a coalition to protect the area as federal wilderness. Credit: Jeremy Fox/Owyhee Coalition.
July 30, 2015
BEND, Ore. – There's a new proposal to protect about 2 million acres of the Owyhee Canyonlands at the Oregon-Idaho border as federal wilderness – and its first challenge is to get a sponsor in Congress.

The area is one of the most pristine stretches of high desert in the nation, and about half of it already is designated as a Wilderness Study Area.

Earlier plans to increase Owyhee Canyonlands protections have been met with some skepticism, primarily by local ranchers. But Brent Fenty, executive director of the Oregon Natural Desert Association (ONDA), says grazing rights would not be affected under this proposal.

"The proposal is not really focused on livestock grazing," he points out. "It's focused on addressing some of the development pressures in the area, including mining and oil-and-gas development in the future, as well as the ATV impacts in the region over the past couple decades."

Fenty says recent oil and gas-drilling plans in Idaho have sparked concern about the trend moving west. Another is potential siting of power lines across the area.

ONDA is one of eight groups that formed the Owyhee Coalition to develop the wilderness proposal. It also would protect about 50 miles of waterways as wild and scenic.

Rep. Earl Blumenauer has said he likes the idea, but the entire parcel up for protection is in Rep. Greg Walden's district.

Earlier this month, Walden proposed preventing the Owyhee Desert and sites in several other states from being designated as national monuments.

Fenty says the coalition is hoping he'll come around.

"There's a long history in this country of protecting the areas that we really hold dear and that we believe should be left as they are for future generations," Fenty points out. "This is part of that tradition."

A call to Walden's office for comment was not returned by deadline.

The Owyhee Canyonlands is home to more than 500 archaeological sites and, in non-drought years, is a popular whitewater rafting destination.
Chris Thomas, Public News Service - OR