Kentucky College Students Getting Hit With a Double Whammy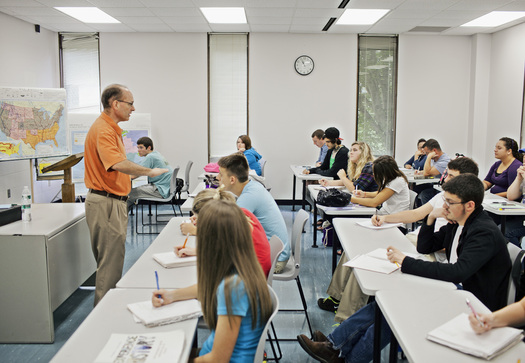 As college classes begin Kentucky students are paying more, while state lawmakers are giving public universities less. Credit: KCTCS.
August 24, 2015
OWENSBORO, Ky. - As students return to Kentucky's 24 public colleges and universities to begin the fall semester, the price they are paying continues to escalate, while lawmakers continue to slash state support.

According to the Center on Budget and Policy Priorities, Kentucky is among the five states with the highest increase in the average cost of tuition since last year. The nearly four percent jump averages $344 a student.

Lacey Parham, Owensboro Community and Technical College sophomore and student government president, says tuition has become a major factor in students' plans.

"Tuition holds people back from being able to go to the college they want to go to," says Parham. "Sometimes that can be in the means of having to wait another year or two to save money. Sometimes that can be the means of having to go a completely different route with their education."

According to the Center on Budget and Policy Priorities, Kentucky lawmakers made the largest funding cut per student, in the nation this year at $179 a student.

Kentucky, Oklahoma and West Virginia are the only states that have cut funding to higher education over each of the last two years. Robert King, president of the Kentucky Council on Postsecondary Education, says general fund cuts have come each year since 2008 totaling $900 million.

"What we're really doing is undermining the capacity of the state to have a highly-skilled, highly-educated workforce," he says. "Without that it is very difficult to support economic growth in the future."

King says the state's current general fund allocation to the higher education system is $173 million less than what it was when the recession hit in 2008. He notes that from 2000 to 2009, Kentucky made the most progress in the nation in the number of degree holders, but has now slipped "well down in the pack."

"Our legislators know there is a relationship between state funding and tuition," he says. "I think the performance indicators really are the, kind of the canary in the coal mines. And, look these cuts are starting to have an impact."

The funding report shows lawmakers have reduced state support nearly 28 percent from its pre-reccesion level, while tuition has increased 28 percent. A double whammy on students, which Parham, says puts the college in a no-win situation.

"Students and others are often quick to blame the college," says Parham. "I understand that, but really it's often beyond their control."