Life Reimagined for New Hampshire Seniors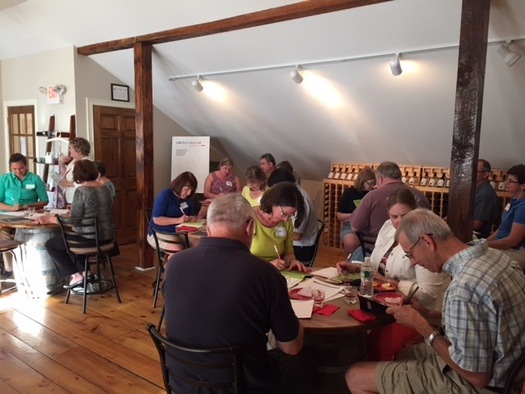 Granite Staters in a Life Reimagined Check-up at the Sweet Baby Vineyard in August. Check-ups are being offered in Manchester and Concord in September. Credit: AARP-NH
August 31, 2015
CONCORD, N.H. – As the final days of summer tick down, Granite Staters have an opportunity to spend the fall reimagining their lives in work and in pleasure.

Sarah Kelsea, associate state director for outreach with AARP New Hampshire, says Life Reimagined workshops are a kind of check-up that allows you to gain insight into where you are in life and where you want to go.

"You know, you go to the doctor to check up on your health," she points out. "You go to the mechanic to check up on your car.

"This is an opportunity to really pause and check up on what you want – what the possibilities are in your own life, and to look ahead with curiosity and courage."

Kelsea says you come away with practical tools to help you identify a goal and plan your next move.

Life Reimagined check-ups are being offered in Manchester and Concord in late September, and more are expected later this year.

Kelsea says folks come to these sessions for all sorts of reasons, including a desire to start a new business, or figuring out ways to downsize.

"For other people it's about figuring out how to follow their passions," she explains. "Their kids are out of the house, they've got a little more disposable income and they want to focus in on that trip that they've always wanted to take or that hobby that they've really wanted to learn, whether it's music or art."

Kelsea says participants work together and keep a journal as they go through the six steps of the check-up process – connect, explore, choose, reflect and act.

"So, by the end, they've committed something to paper that they want to work on, and they have a goal now in focus," she says. "Beyond that, the rest is up to them."

The check-ups are free, but space is limited, so preregistration is required. You can register at the AARP-New Hampshire website, where information about future check-up events will also be posted.