Preventing Suicide: One Person Can Save A Life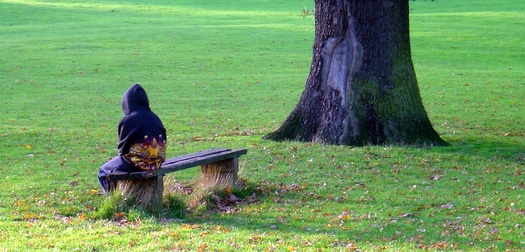 Experts say the root of suicide lies in untreated mental illness. Credit: hotblack/Morguefile
September 8, 2015
SPRINGFIELD, Ill. – No one wants to be nosy, but it could actually save a life.

According to the Centers for Disease Control and Prevention, every 12 minutes in the U.S. someone takes his or her own life.

And in Illinois a person dies by suicide nearly every three days.

Steve Moore, co-chair of the Illinois chapter of the American Foundation for Suicide Prevention, says this year's Suicide Prevention Week (Sept. 6-12) is aimed at creating an informed conversation that suicide doesn't have to be inevitable, and can be prevented by recognizing those who need help.

"Reach out to them, make them understand that you are there, that the world is not hopeless, that there is help out there," he urges. "Then get them that help, stick with them. One person can make a difference."

People contemplating suicide typically give an indication.

Moore explains it could be a change in behavior, including increased alcohol or drug use, extreme fatigue, aggression or depression.

Resources are available throughout Illinois. For immediate help, the National Suicide Prevention Lifeline is 1-800-273 TALK (8255), and is open 24/7.

Of the 10 leading causes of death, Moore notes suicide is the only one trending upward. When a person decides to take his or her own life, Moore notes coping skills are compromised beyond the ability to reason, and pain exceeds hope.

Moore points out the root lies in untreated mental illness.

"Suicide is dying of depression, dying of schizophrenia but it's nothing that should have a stigma associated with it and people should try to get help," he stresses.

Every fall, the American Foundation for Suicide Prevention sponsors Out of the Darkness Community Walks around Illinois to raise awareness and bring together people who have experienced a suicide loss.

The Chicagoland walk will be held Saturday, Sept. 26 at Grant Park.




Mary Kuhlman, Public News Service - IL