Indiana Voter Registration Deadline Rapidly Approaching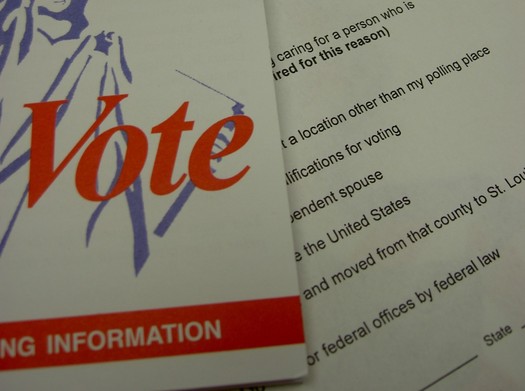 Indiana ranked last among states in voter turnout in 2014. Credit: jdurham/Morguefile
September 21, 2015
INDIANAPOLIS - Indiana's November election is fast approaching, as is the voting registration deadline of Oct. 5.

Erin Kelley, co-president, League of Women Voters of Indiana, says voter registration is crucial to civic engagement. But she explains Indiana's voter turnout is notoriously poor, ranking last among states in the 2014 election.

"So, Indiana's civic health is in a bad state," says Kelley. "Local elections are incredibly important. People who run for mayor or county commissioner, these people make decisions that impact your life on a regular basis, in very real ways."

Kelley encourages voters to research candidates and says voters also should make sure their personal information is updated before going to the polls on Nov. 3. People can register to vote by mail, online or in person at a Voter Registration Office.

Last year, only 30 percent of the 4.5 million Hoosiers registered to vote actually cast a ballot.

Kelley adds it's a good idea to call and confirm your polling location before Election Day, and reminds voters that identification issued by the state or the federal government is required.

"An Indiana state ID card will also work, military IDs will work, Merchant Marine IDs will work as well, so will passports, but you need to have a form of photo identification with you," says Kelley.

In-person absentee voting is allowed for all registered voters at the County Election Board office beginning 28 days before Election Day.

There is also absentee voting by mail, but Kelley notes there must be a specific, reasonable explanation the voter cannot be present when the polls are open on Election Day.