Pope's Climate Message Fueling Creation Care in Indiana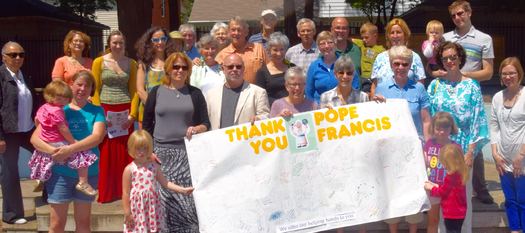 Faith communities in Indiana are standing with Pope Francis' message on climate change. Credit: Mike Oles
September 23, 2015
INDIANAPOLIS - Faith leaders in Indiana say Pope Francis' visit to the United States is amplifying the message that climate change is a moral and ethical issue.

In June, the pope released a climate encyclical stating that climate change is real and human activities are partly to blame. Larry Kleiman, executive director of Hoosier Interfaith Power and Light, said the message reaches beyond the Roman Catholic church and is fueling a faith movement of creation care.

"He has really been able to frame the impact that carbon emissions have had, particularly on poor communities," Kleiman said. "He has really helped to see the imperative to act with social justice."

The pope is being welcomed by President Obama and other leaders in Washington. Back here in Indiana, people of faith will march to the offices of Sen. Joe Donnelly and Gov. Mike Pence today to pray and demand that both support the Environmental Protection Agency's Clean Power Plan.

Pence and some other leaders have not embraced the standards to reduce carbon pollution, claiming they are expensive and will hurt the economy. But Kleiman said the plan would go a long way to clean up Indiana's air.

"We need to advocate for lessening the carbon pollution because it does primarily affect areas that are poor and people whose voices are not usually heard," he said. "People of faith can articulate that justice issue and strive to find the common good for the whole community."

On Thursday, Francis becomes the first pope to address Congress and is expected to discuss the urgency to act on climate change. Some politicians have criticized the pope's stance, with Rep. Paul Gosar, R-Ariz., saying he and a few others intend to boycott the speech.
Mary Kuhlman, Public News Service - IN