MN Students Hit the Bricks: Walk to School Day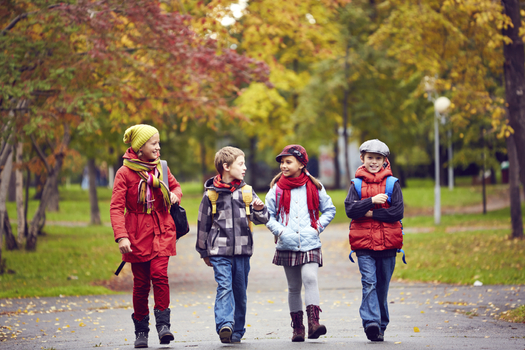 Walking to school or other regular physical activity by children can help improve their health and academic performance. Credit: shironosov
October 7, 2015
ST. PAUL, Minn. - Tens of thousands of students across Minnesota are taking a step in the right direction for their health on this International Walk to School Day.

Among them are kids at Perham-Dent Public Schools. That's where Jim Kennedy, a physical-education teacher at Heart of the Lakes Elementary School, said the annual event has helped spur more students to walk or bike to school throughout the year. He said it's good for both health and academics.

"Physical activity plays a major part in their educational experience," he said, "and we talk a lot about being active outside of school and making positive healthy choices so that it's lifelong learning too."

Back in the 1960s, around half of all school kids got to class by walking or biking, but now that figure is estimated at less than 15 percent.

One reason fewer children are getting to school by foot or bike these days is a lack of safe routes. While that's the case at many schools, Kennedy said the Perham-Dent district has been fortunate enough to receive grants to help with such infrastructure.

"Basically, you can get anywhere in the town of Perham by a bike path," he said, "and we also just added last spring some sidewalks, which is great for our families and for those people who would like to stay active and get around town safely."

The Safe Routes to School program has helped a number of districts statewide make improvements, but demand far exceeds available resources.

More information is online at walkbiketoschool.org. Information on the decline of walking to school is at guide.saferoutesinfo.org.