Language Barrier: Many Massachusetts Hispanics Lack Health Coverage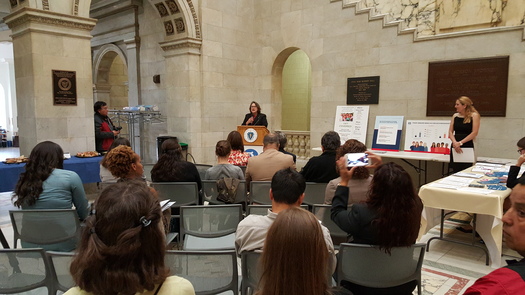 Amy Whitcomb Slemmer and other health care advocates released a new study at the State House showing many Hispanics in the Commonwealth missing out on insurance coverage. Courtesy: Health Care For All
October 15, 2015
BOSTON – Massachusetts made history when it enacted the wide reaching Health Care Reform Law back in 2006, but a new study shows a big percentage of Hispanics still do not have coverage.

October is Hispanic Heritage Month and Dharma Cortés, an adjunct assistant professor at the Institute on Urban Health Research and Practice at Northeastern University, conducted a survey that found a large number of Hispanics have remained uninsured over the past decade – even though they tried to get coverage.

"A little bit more than half of them have never had insurance," she points out. "Over 80 percent of the people that we interviewed spoke Spanish. So we know that Latinos who are not English-proficient face even more challenges."

Fifty-one percent of the Hispanics in the survey lacked coverage.

The survey also found big gaps in continuing coverage for Hispanics with 27 percent of those responding currently uninsured – even though they had obtained insurance coverage previously.

Jose Ayala lives in Lawrence and is one of the many local Hispanics who lost coverage during part of last year. In his case it was a paperwork snafu that happened right when he had to go to the hospital for a heart problem. He called Health Care For All.

"So, the counselor on the line helped me solve the issue, so I am very grateful about that," he states. "Still, there are thousands of people that don't know how to proceed when they get sick, or, you know, if they have insurance or not. It's very frustrating sometimes. "

Amy Whitcomb Slemmer, executive director of Health Care For All, says the state's first Hispanic Enrollment Week will start on Monday, Nov. 9 and will conclude with a major enrollment event in Chelsea on Saturday, Nov. 14.

"We will have activities for the kids, we will have a flu shot clinic, and we will have counselors who speak English, Spanish and Portuguese, helping people navigate health insurance enrollment forms and helping them get health insurance," she says.

The study and information about Enrollment Week are available at the Health Care For All website.