It's National Eating Healthy Day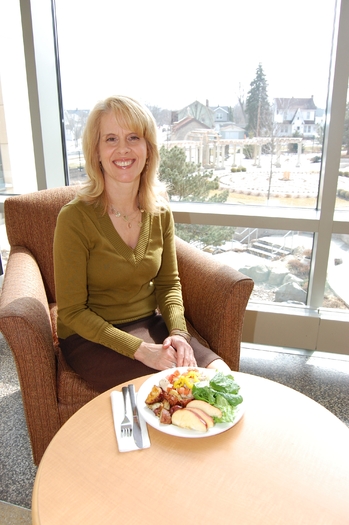 On National Eating Healthy Day, registered dietitian Marianne Merrick says try to change one thing at a time when you're trying to get rid of bad eating habits. Courtesy: Marianne Merrick
November 4, 2015
MADISON, Wis. - Here in America's Dairyland, 31 percent of adults are obese, 32 percent of adults have high blood pressure and 350,000 have heart disease. The American Heart Association has designated today as National Eating Healthy Day to encourage all Americans to take simple steps to improve their eating habits.

Most people know that a diet high in fatty foods and low in fruits and vegetables is bad for them, but change is difficult. If you're interested in eating a more heart-healthy diet, said Marianne Merrick, a registered dietitian at St. Mary's Hospital in Madison, don't try to change everything at once.

"Focus on one change at a time - that's the key," she said. "If you try to make lots of changes at once, what's going to happen is that you're probably going to fail, because it's going to be too overwhelming."

Merrick suggested cutting out one thing at a time - such as sugar-sweetened beverages - and substituting something more healthy. Then, she said, move on to another item.

There are plenty of tips to help you eat more healthy at heart.org/NationalEatingHealthyDay. At that website, you also can get a free toolkit from the American Heart Association along with suggestions for healthy activities and healthy eating.

Merrick said one of the best ways to eat a more heart-healthy diet is to go back to the basics.

"I think it's really important to focus on eating whole foods and things that are minimally processed you won't find in a can or container or package, generally," she said. "I really encourage people to focus on those, and going back to basics."

Merrick said eating healthy is more than just an easy way to reduce the risk of heart disease and stroke. She said good, basic food can be delicious when properly prepared - and it's important to check your numbers with your doctor.

"Your cholesterol and your triglycerides, and your LDL and HDL cholesterol on a regular basis, with your doctor's recommendations, and your blood pressure; to make sure that you're getting in exercise, it's a great stress reducer."