Ayotte Praised in NH for Support of Clean Power Plan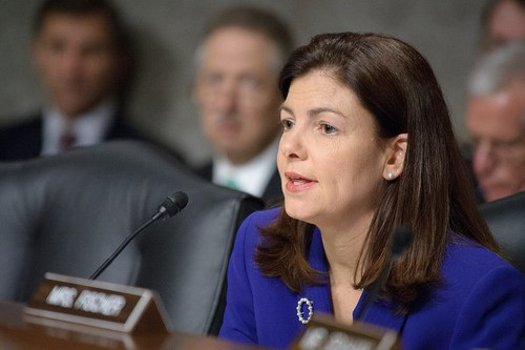 Sen. Kelly Ayotte, R-NH, is the first Republican to break with GOP leadership and support the pollution-reduction goals of the Clean Power Plan. Courtesy: Office of Sen. Ayotte.
November 16, 2015
NASHUA, N.H. - Sen. Kelly Ayotte is getting praise today from conservationists and people who make their living fishing and hunting for her decision to break with the Republican Party on the Clean Power Plan.

Senate Majority Leader Mitch McConnell, R-Ky., called the greenhouse-gas reduction plan "regulatory assault" and said he intends to block it. However, Ayotte, R-N.H., said New Hampshire's environment needs protection "for our economy and our future."

Jim Hunt, a member of the Randolph Conservation Commission, applauded Ayotte's move.

"It seems to me that people like Kelly Ayotte are getting it," he said. "They're understanding we need to do something - not yesterday, not in the future, but right now - to take care of our world."

Late last month, Ayotte became the first member of the Senate GOP to announce support for the Clean Power Plan, which sets a target of 23 percent reduction in carbon emissions the Granite State by 2030.

Ayotte's stand also is getting praise from New Hampshire hunting and fishing guide Tim Moore, who said the effects of climate change already are taking a significant slice out of his business.

"I'm an ice-fishing guide on Lake Winnipesaukee in the wintertime," he said. "Shorter winters means less income for me and my household in the wintertime."

During last week's GOP debate, leading Republican candidates for president pledged to block the plan and many more environmental regulations. Hunt said he believes Ayotte's stand makes more sense for New Hampshire.

"Less regulations sound good, in theory," he said. "Left unchecked, these power companies, they'd be pumping a lot worse than that into the atmosphere if it wasn't for government regulations."

A poll released in August by the League of Conservation Voters found that 70-percent of Americans want their state to comply with the Clean Power Plan. Details of the poll are online at lcv.org.