What You Probably Don't Know about WI Medical Malpractice Laws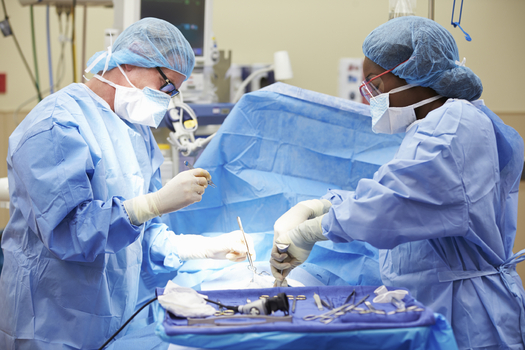 There is another move to change Wisconsin's medical malpractice laws, which now say if an act of malpractice causes the death of someone 18 or older and single, there's nothing a parent can do about it. Credit: monkeybusinessimages/iStockPhoto
November 23, 2015
MILWAUKEE – Once again, legislation has been proposed to change Wisconsin's medical malpractice laws.

Milwaukee attorney Michael End says most parents have no idea how those laws work, and are shocked to find out that if their child is 18 or older and is killed by an act of medical malpractice, there's nothing they can do about it.

"If the child were to be run over by a car, for example, and killed, parents have the right to bring a case for the loss of the child," he explains. "But an exception is made for medical malpractice: Dying on the operating table means no compensation to anybody, oftentimes."

If the child is married, the spouse could file a claim, but the parents are blocked.

State Sen. Nikiya Harris Dodd of Milwaukee wants the age of majority in malpractice cases changed from 18 to 27, even though past efforts have failed.

The Wisconsin Medical Society and the doctors it represent oppose it, saying it will lead to higher insurance rates.

End says there's no truth to that assertion, pointing out that medical malpractice insurance rates nationwide and in Wisconsin have gone down every year for the past eight years, and the 2014 numbers clearly illustrate the trend.

"General surgeons in Wisconsin paid the lowest premiums in the country," he points out. "Obstetricians, gynecologists in Wisconsin paid the lowest premiums in the country. And internal medicine doctors paid the second lowest premiums in the country."

According to End, the number of malpractice claims in Wisconsin has dropped every year since 1999, when there were 294 claims, to just 84 last year. He says Wisconsin paid the lowest number of claims in the nation per population in 2014.

End says fewer than half the people who filed medical malpractice suits last year got anything.

"There are just under 27,000 people every year in Wisconsin who die or are injured as a result of medical errors," he says. "Last year there were 37 people who received compensation."

End adds medical malpractice suits are very expensive and time consuming for lawyers to prepare, which is one reason so few suits are filed. Also, Wisconsin caps non-economic damages at $750,000.

End says it's time to change the law.

"The Legislature at some point might consider either raising the cap or doing away with it altogether, as was the case in Wisconsin – all the way up until 1986, we never had a cap," he says.