Tips for a Safe Thanksgiving Dinner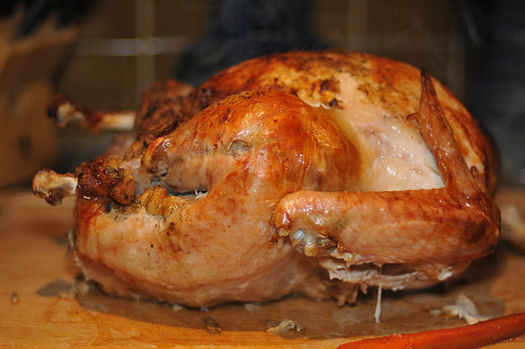 As the Thanksgiving holiday approaches, a food expert reminds cooks across America to follow common-sense safety tips. Credit: M. Rehemtulla/Wikimedia Commons
November 24, 2015
ALBUQUERQUE, N.M. - On Thanksgiving, cooks in homes across the nation are faced with the challenge of setting a table with food that's not just delicious but also safe to eat.

Amy Simonne is a professor with the University of Florida's Institute of Food and Agricultural Sciences and has a few tips. She says a healthy dinner begins with good preparation, and even though it may seem counter-intuitive, Simonne says don't wash your turkey before putting it in the oven.

"It's better for you to minimize handling of the raw poultry," she says. "Just put it in the pan. Cooking can destroy the germs, but washing raw poultry is not going to remove the germs."

Simonne explains washing your bird can help scatter potentially harmful bacteria across kitchen surfaces, which can end up in side dishes. She also reminds cooks and all guests to practice good personal hygiene. Wash your hands and make sure you use serving spoons with long handles for dishes, just in case someone forgets.

According to the U.S. Department of Agriculture, turkeys should be cooked at a temperature no lower than 325 degrees.

Simonne says don't rely on those plastic indicators; use a food thermometer to make sure the internal temperature reaches at least 165 degrees. Simonne says after dinner, cooked foods need to be eaten within two hours. After that, it should be refrigerated or thrown away.

"If you want to save the turkey, when the turkey is cooled down to room temperature, then you need to put that away pretty quickly, let's say within an hour," she says. "That would be really an ideal time."

Simonne says you can divide leftovers into small portions and keep them in the refrigerator for three to four days or in the freezer for two to six months.

According to the USDA, food-borne illnesses can lead to long-term health conditions, and are linked to 3,000 American deaths each year.
Eric Galatas, Public News Service - NM