Arkansas Parents Urged to Speak Up for Working Families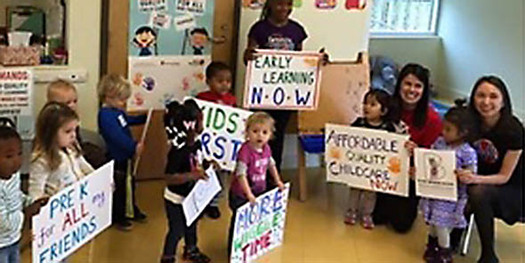 MomsRising is a national group urging its members to speak up this election year about improving policies for working families and children. Courtesy: MomsRising
December 1, 2015
LITTLE ROCK, Ark. - Arkansas parents could have a lot to say to political candidates in the coming year, and one group is encouraging them to speak up.

According to the grassroots group "MomsRising," even the busiest working parents need to find time to advocate for better economic security for families. The group is organizing house parties across Arkansas and other states to mobilize voters and get them talking.

Executive Director Kristin Rowe-Finkbeiner said the goal is to address the most pressing concerns facing mothers and children - and there are plenty of them.

"Right now, a quarter of young families are living in poverty," she said. "Also right now, we have a changed labor force, where women are 50 percent of the labor force for the first time in history, and three-quarters of moms are in the labor force. So, now is the time to update our workplace policies."

She said MomsRising has more than 1 million members across the country. The house party concept is designed to encourage local conversations about issues such as affordable child care, better childhood nutrition and flexible work options for parents.

The group's current top priority is paid family and medical leave for new parents, Rowe-Finkbeiner said.

"Right now, only 13 percent of people in our country have access to some form of paid family leave after a new baby arrives," she said. "Studies show that that is hurting businesses because they're having to pay more money for recruitment and reraining, and also it decreases productivity."

A study taken in May by WalletHub ranked Arkansas "sixth worst" among the states for working mothers for its pay gap between women and men, child-care costs and lack of parental leave policies. The survey results are online at wallethub.com.

Information about the house parties is at momsrising.org.
Jeff Stein, Public News Service - AR