Drunken Driving In Wisconsin: "It's About Changing This Culture"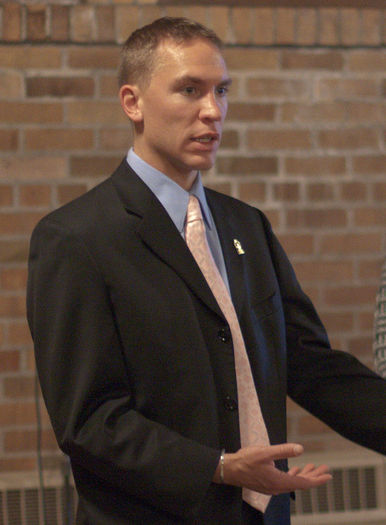 Wisconsin state Sen. Chris Larson, D-Milwaukee, says it's time to change the state's culture regarding drinking and driving. Credit: Michael Simms/Wikimedia Commons
December 2, 2015
MILWAUKEE, Wis. - State Sen. Chris Larson says Wisconsin's "woefully inadequate" drunken-driving laws are the most lenient in the nation.

While state law now regards a first-time drunken-driving offense as a misdemeanor, a bill sponsored by Larson, D-Milwaukee, would force an immediate consequence on all first-time offenses.

"Any time somebody is convicted of drunk driving, which is if somebody has a blood alcohol level above .08," Larson said, "they would have an ignition interlock device, or IID, installed on their vehicle and any vehicle that they drive."

According to Mothers Against Drunk Driving, Wisconsin continues to top the national charts with the highest rate of drunken driving.

Larson said the use of ignition interlock devices has been shown to be successful in other states in changing offenders' behavior. For years, however, the Tavern League of Wisconsin has been one of the most effective lobbying forces against changing the state's drunken-driving laws.

Drinking and driving, some say, is ingrained in Wisconsin culture, but Larson said the political landscape is beginning to change.

"There are some specific special interests that don't want to see our laws to change," Larson said. "Those aren't the folks that I work for. For me, it's about standing up and making sure that people recognize that we're going to make some changes here."

For now, first-offense drunken driving would remain a misdemeanor, but Larson said that may change in the near future.

Larson, who lost a good friend and high school classmate to a drunken driver on Christmas Eve, 1998, said it was a horrible and preventable tragedy. He said the holiday season with all the parties and get-togethers is full of situations that can cause problems.

"There's nothing wrong with going out and having a few drinks and having a good time; it's just don't do something that's going to end a life or alter your life or other people's lives around you," he said. "So, hopefully, the law will change, but in the meantime just plan ahead: There's taxicabs, there's the bus, there's Uber, or you can pick a designated driver. It's about changing this culture."

According to MADD, first-time offenders are estimated to have driven under the influence at least 80 times before their first conviction.

The text of the legislation, LRB 3902, is online at thewheelerreport.com.