Health Coverage Deadline is Wednesday: Help Available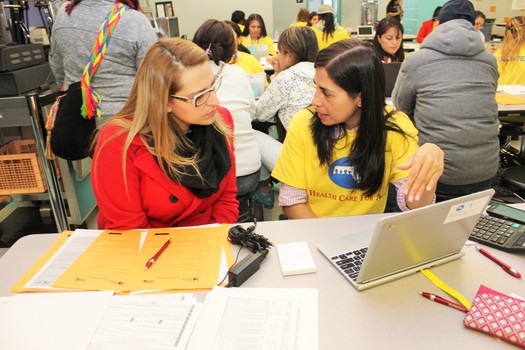 HelpLine counselor Denise Moran, right, is among those who are providing last-minute assistance to Bay Staters signing up for health coverage. (Health Care For All)
December 22, 2015
BOSTON - It's down to the wire for Bay Staters to sign up for health-insurance coverage or make changes to existing plans, and the good news is that help still is available.

Local consumers don't have to do it alone, said Amy Whitcomb Slemmer, executive director of Health Care for All Massachusetts. They still can get assistance selecting a plan, either by phone or online - but they do need to act now. She suggested setting aside about an hour today or tomorrow to fill out an application, make their selection and pay the premium.

"We're encouraging people to schedule time to make sure that they have enough time and the information they need," she said, "and then go and exercise their ability to switch into new coverage or to apply for a new plan, that begins Jan. 1. You need to do that by Wednesday."

Help is available on the Massachusetts Health Connector website, mahealthconnector.org and also on the Health Care For All HelpLine, 800-272-4232.

Whitcomb Slemmer said she is pleased that the Commonwealth has been able to maintain the highest coverage rate in the nation.

"Ninety-six-point-four percent of Massachusetts residents have health insurance, but we know that still means several thousand people are still uninsured," she said. "We're encouraging everybody to get health insurance, or to look at the coverage that they have and make sure it is what they want."

She said Health Care For All also will be providing in-person assistance in mid-January at the Fuller School in Framingham for anyone who misses this week's Wednesday deadline. Signing up then means their coverage wouldn't begin until February at the earliest.
Mike Clifford, Public News Service - MA