Wisconsin First Responder: Learn CPR, Save Lives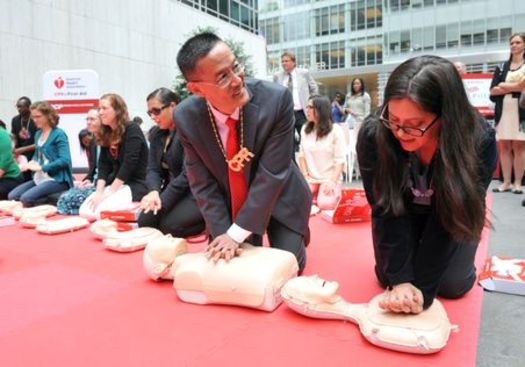 The American Heart Association and other organizations are trying to pass legislation in Wisconsin to ensure all students learn compression-only CPR. (heart.org)
January 21, 2016
OAK CREEK, Wis. - Lieutenant Scott Kasten of the Oak Creek Fire Department is a paramedic who says he's seen many times first-hand how important it is for people to know CPR. The American Heart Association is pushing for legislation that would ensure all Wisconsin students learn basic compressions-only CPR before they graduate.

Kasten says about 1,000 people a day in the U.S. suffer cardiac arrest.

"So the chances that you could come in contact with someone who is in cardiac arrest are actually kind of good," says Kasten. "It's imperative that as many people as possible know CPR and are comfortable performing it."

Kasten says you never know when you're going to be called upon to help someone until paramedics arrive. He says when performed immediately, compressions-only CPR can double or even triple a cardiac arrest victim's chance of survival.

According to the American Heart Association, current Wisconsin law requires all high schools to offer a class in CPR, but the law does not require students to take the course. Kasten says it only takes 30 minutes to learn CPR, which can make anyone a life-saver.

"And we're focusing on compressions only, continuous chest compressions," he says. "We're not doing any rescue breathing, it's just simply the chest compression portion. We want people to call 9-1-1 if they see someone in cardiac arrest and jump into action and perform those continuous chest compressions."

Twenty-seven states already have laws that require students to learn CPR, which ultimately makes communities safer, and empowers young people to actually save lives. And Kasten says once you've learned compressions-only CPR, you should not be afraid to put that training to use when you see someone in distress.

"It's so important we get as many people as possible to perform CPR, to allow first responders to come on-scene, it's the first step in the chain of survival," says Kasten. "The first responders arrive, they take over care, take the patient to the hospital, and that's ultimately how we can improve survival rates."

To learn more about CPR in schools, visit heart.org/CPRWisconsin.