Is Real Cupid in Your Gut?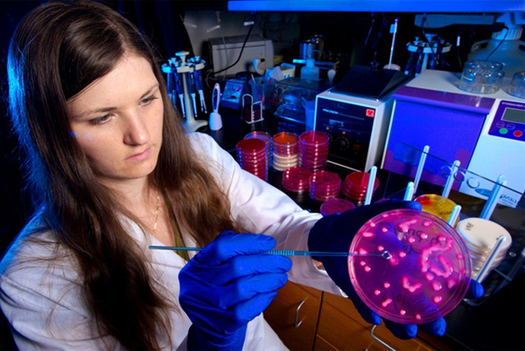 New research shows that gut bacteria and other microbes influence mate selection as well as other parts of our biology. (Center for Disease Control and Prevention)
February 8, 2016
PORTLAND, Ore. – New research shows microbes in our body will help pick our sweethearts for Valentine's Day this weekend, though exactly how our bacteria play cupid isn't clear yet.

Dr. William Miller, author of "The Microcosm Within," says two studies prove falling in love is a matter of microbiology.

In the first study, scientists found romantic partners had similar types of bacteria and other microbes in their mouths before physical contact, suggesting people are attracted to other people with germs like theirs.

In the second study, women rated their level of attraction to various men's sweat.

According to Miller, this study proves an old adage about love.

"In this instance, it's opposites that attract," he says.

Miller points out microbes found in the sweat are part of our immune systems. By choosing men with different kinds of microbes, women may be unconsciously ensuring their children will inherit the benefits of both immune systems.

According to Miller, biologists are discovering that microbes form an interconnected system with our bodies, and can govern our metabolisms and even our moods.

Although antibiotics are very useful tools for fighting disease, microbes throughout our body are affected when we take them, and that can lead to unintended consequences.

Miller says the drug becomes a problem when it's over prescribed and overused.

"What you're doing then is you are improperly upsetting a delicate and vital balance of microbial life," he explains.

Widespread evidence indicates medical discoveries will give new meaning to the phrase, "I knew it in my gut."

Miller adds that gut bacteria has been linked to depression and diabetes, and microbes could be key to healing these and other diseases.