NC Program Hunts for Solution to Multiple Problems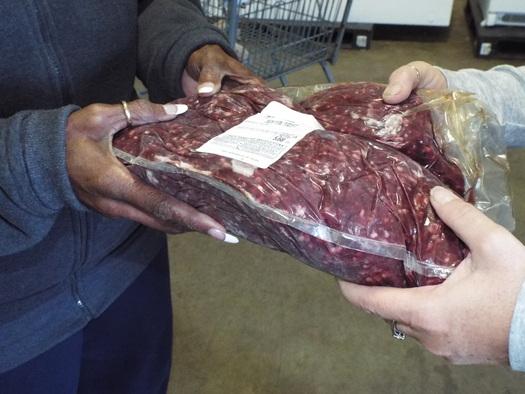 The Food Bank of the Albemarle and at least 20 other North Carolina food banks distribute venison donated from hunters across the state. (Food Bank of the Albemarle)
February 8, 2016
ELIZABETH CITY, N.C. – North Carolina has an overabundance of deer and a growing population of citizens who are food insecure.

While those may sound like two unrelated problems, a program is tackling them both in an unconventional way.

The Farmers and Communities Manage Deer program began in 2012 and today at least 20 food banks in North Carolina receive thousands of pounds of venison from hunters who wish to donate the meat.

Carolyn Anderson, food resource coordinator for the Food Bank of Albemarle, says more than 1,000 families have received the much needed donation.

"Venison is an excellent source of protein," she states. "It's lean and got a lot of nutritional value.

"Protein is something that's very hard to come by at times in the food bank world. Having this extra protein available for our families in need is just an excellent resource."

There are 1.25 million deer in North Carolina. With their high numbers, the animals cause millions of dollars of damage to farms every year, as well as countless automobile accidents.

The North Carolina Wildlife Federation instituted the program through funding from the N.C. Tobacco Trust Fund Commission.

Kevin Keyzer hosts an annual drive in Beaufort County for the Farmers and Communities Manage Deer Program. A lifelong hunter, he says it means a lot to know the meat he doesn't need is being put to a very good use.

"It fills me with joy, to know that something that I love to do, to be able to take part in that and to turn around and have its blessings of a prosperous hunt to share with someone else," he states. "It's very inspiring and fulfilling."

Anderson's food bank hosts cooking demonstrations when it distributes the venison so clients know how to prepare the meat. She says the food bank is grateful for the fresh meat.

"And it's a win-win," she says. "There's an estimated over $30 million worth of crop damage annually from deer, not to mention all the automobile accidents as a result of the deer. So this is helping the farmers manage deer as well as providing food to families in need."

Interested hunters and farmers can contact the North Carolina Wildlife Federation for information on how to get involved.