Study: Nutritious Choice is Organic Meat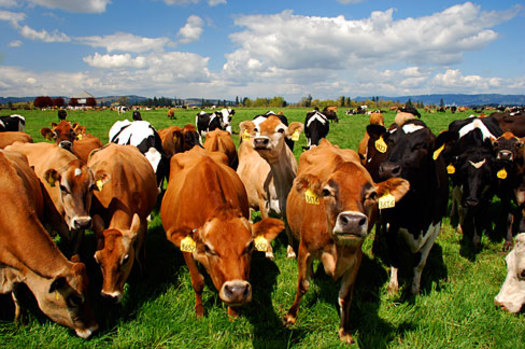 Omega-3 acids, found in organic foods from grass-fed cattle, have been linked to lowered risks of cardiovascular disease. (Gary Halvorson/Oregon State Archives)
February 22, 2016
PORTLAND, Ore. - Researchers' analysis of a bulk of studies from around the world finds organic production of dairy and meat delivers more nutrients to diners.

The recent study published in the British Journal of Nutrition shows organic meat and dairy contains 50 percent more omega-3 fatty acids, which contains nutrients linked to lowered risks of cardiovascular disease and improved mental health.

Co-author of the study and Professor of Ecological Agriculture at Newcastle University Carlo Leifert explains how organic and conventional foods differ.

"The main difference, with respect to the composition differences we've seen, is the feeding regimes," says Leifert. "The organic standards, they enforce outside grazing and access to the outside; and they restrict, especially for ruminants, concentrate feeds."

Leifert adds the study did not conclude that organic foods were healthier, only that most studies showed an increased level of nutrients.

Oregon is plentiful with grassy valleys ideal for grazing. Although the cattle raised on his ranch can't be considered organic because of a de-wormer chemical used on his land, Joe Pestana of Langlois, Oregon uses organic grazing standards.

Pestana says grass-fed cattle need more acreage than feedlot cattle, but Oregon has enough land to accommodate ranches like his.

"The luxury of having small population size is that you can have places like this, and have a healthy product," says Pestana.

Along with the need for land, another downside to grass-fed cattle is the meat is often more expensive.

Eric Tegethoff, Public News Service - OR