Shining Light on Plight of Wildlife in Michigan, World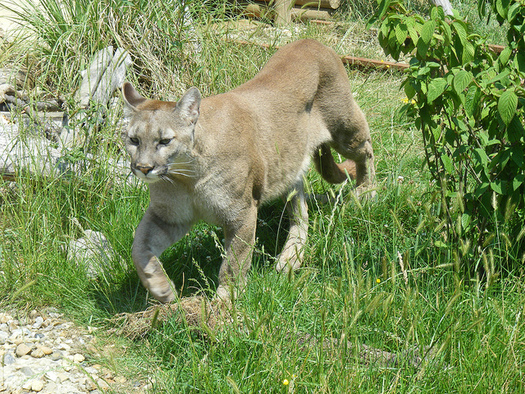 Cougars are an endangered species in Michigan. (Marie Hale/Flickr)
March 3, 2016
LANSING, Mich. – Animal lovers in Michigan are joining others around the world in commemorating World Wildlife Day, which draws attention to threatened and endangered species.

The Michigan Wildlife Conservancy works to protect fish, wildlife and habitat. And wildlife biologist Pat Rusz says Michigan has many threatened or endangered species. He adds with advancements in technology and information, it's not difficult to understand the plight of wildlife.

"There are different patterns that you see repeated again and again," he points out. "And usually it boils down to habitat or genetics and we've learned now the importance of not letting species get down so low that sometimes despite habitat improvements they can't bounce back."

The U.N. established World Wildlife Day in 2013, and the day also highlights the threat of poaching to species.

While elephants, tigers and other vibrant species are poaching victims in other parts of the world, the crime also happens here. Typically deer are the target in Michigan, but in 2013 the poaching of a cougar lead to criminal charges.

Cougars are on both state and federal endangered lists, but Rusz says some people question that status. There is also controversy surrounding gray wolves, which were removed from the lists, and then placed back on by a federal ruling.

"As you celebrate this day of commemorating endangered species, it's still a sad situation when you have two apex predators that we can't seem to get an agreement as to their status," he states.

There are species successes in the state worth noting, Rusz says, including the Kirtland's warbler, an endangered species that only lives in Michigan during warm months. The bird has expanded over the past couple of decades from nesting in just Michigan's Lower Peninsula to now also the Upper Peninsula.



Mary Kuhlman, Public News Service - MI