West Virginians Frustrated With Legislature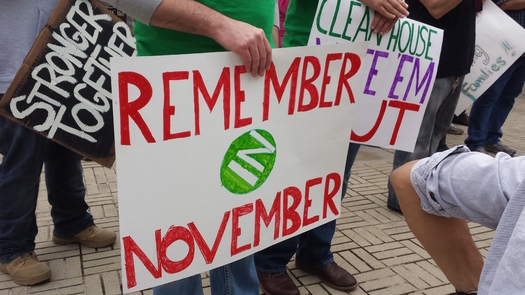 Angry with the direction of the legislative session, many West Virginians say they are organizing to have their voices heard during the next election. (Dan Heyman)
March 14, 2016
CHARLESTON, W.Va. - Some West Virginians are expressing anger with legislators for not doing more to create jobs or close a big deficit, instead focusing on hot-button issues such as a rare kind of abortion.

The legislative session ended over the weekend, still at an impasse over the budget and with no plan to deal with crumbling roads.

Julie Warden, communications coordinator for abortion-rights group West Virginia FREE, said lawmakers spent days on a bill to outlaw a kind of late-term abortion that only happens in a handful of cases where the woman's life is in danger.

"Are you kidding me? Is that really what West Virginia is concerned with? Why are you not focusing on the jobs, on education, on access to health care? It's what these people need," she said.

The Legislature's Republican leadership argued that they've been pressing on hot-button cultural issues because that's what their constituents have wanted but have been unable to get while Democrats controlled the House and Senate.

The abortion ban was vetoed by the governor. Lawmakers voted to override, even though the new law may well be ruled unconstitutional.

In spite of many of the politicians campaigning on job creation, said Gary DeLuke, a member of the public-workers union, the Legislature did nothing to expand the state's broadband network or replace jobs lost because of the collapsing coal industry. Instead, he said, they spent their time attacking unions, LGBT folks and poor people.

"They have not done a single thing to create a single job," he said. "They've spent all their time attacking various groups."

Lawmakers also voted to override vetoes on two anti-union bills. Legislative leaders argued that those will spark economic growth, but DeLuke said they'll just drive down wages and make the state poorer. He said state agency funding has been reduced by 20 percent in the last three years. He said he wishes lawmakers would have dealt with the structural weaknesses in the state tax system. Instead, he said, they promised more cuts at the expense of public employees.

"Their offices are severely understaffed, people are overworked, there's a high turnover rate," he said, "and the solution for this Legislature? Force people to work even harder."

According to a recent poll by Orion Strategies, seven out of 10 state voters are unhappy with the performance of the Legislature.