Immigrant Rights Group: No Surprise in Trump MA Performance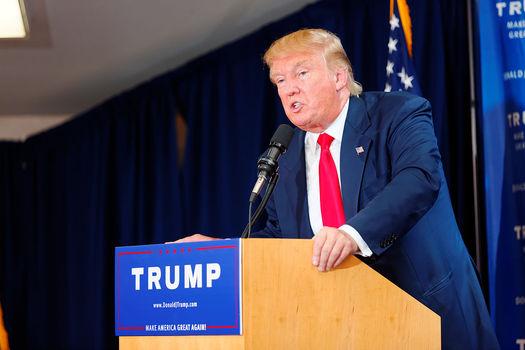 Immigrants' advocates in the Commonwealth say Donald Trump's popularity doesn't surprise them, given Massachusetts' conservative attitudes about immigrants' issues. (Michael Vadon)
March 31, 2016
BOSTON – Advocates for the immigrant community in the Commonwealth took to the State House steps on Wednesday to voice their displeasure with the way the issue of immigration is being treated this election season.

Patricia Montes, executive director of the immigrants' rights group Centro Presente, said Wednesday's action was part of a civic engagement effort to alert immigrants to where the various elected officials and candidates stand on immigration.

"The issue of immigration is being used, unfortunately, in a very negative way, and this is having a tremendous impact," said Montes. "And I think it's important for us to be active, connected and participating in a more proactive way."

Montes said the negative comments on the presidential campaign trail have been especially hurtful to the Latino community.

Republican front-runner Donald Trump has taken some of the toughest stands on immigration. Montes thinks that probably was a key factor in why he won nearly half the GOP vote on Super Tuesday in Massachusetts.

"For me, it is not a surprise," she said. "We have been trying to file proactive and pro-immigrant legislation for the past ten years without any success. So, that's just a reflection of a state that is very conservative around immigrants."

Montes added that she also sees the dismal track record of pro-immigrant legislation as a sign of a lack of political will on the part of Massachusetts lawmakers to address the issue.